CWLS/Galibore outing, 240115
January 27, 2015
We (Ashok Sengupta, Nitin Achari, Prashanth Bhat, Rama Warrier, Rohit Girotra and I) left while it was still dark:
The sun slowly came up…
The Kaveri flowed in all her usual beauty:
Manjunath, the Forest Guard, was with us throughout:
Some of the birds: WOOLLY-NECKED STORK
ORIENTAL DARTER
HOOPOE:
CRESTED SERPENT EAGLE:
BLACK-RUMPED FLAMEBACK
GREATER SPOTTED EAGLE
WIRE-TAILED SWALLOW:
RED-RUMPED SWALLOW
HOUSE SPARROW
JUNGLE MYNA:
INDIAN ROBIN
INDIAN PITTA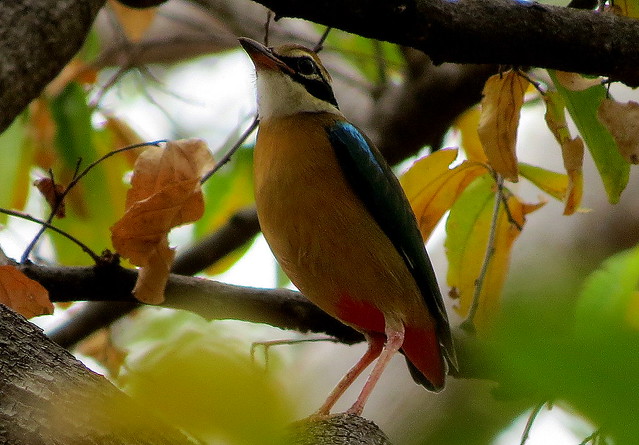 Insects: A beautiful wasp:
Plants: We saw the seeds and wind dispersal of this particular milkweed:
with the "pencil-shaving" bark Acacia
I call these thorns the "bad habit thorns as they are easy to get into, and very tough to get out of, thanks to their inward-curving hooks!
the beauty of this Acacia trunk:
Un id flowering tree
The beauty of these un id seed-pods:
Liana vines:
Rohit clicking a Little Orange-tip:
Then noting it down with his meticulous field notes:
Here are some of the butterflies. COMMON SILVERLINE
SPOTLESS GRASS YELLOW
YELLOW ORANGE-TIP
PLAIN TIGER:
LITTLE ORANGE-TIP:
AFRICAN MALLOW SKIPPER:
INDIAN SKIPPER
ZEBRA BLUE
COMMON JEZEBEL
SPOTLESS GRASS YELLOW
COMMON PIERROT
ROUNDED PIERROT
JEZEBEL
GREAT ORANGE-TIP
PLAINS BLUE ROYAL that we saw at Chunchi Falls
Mammals.. GRIZZLED GIANT SQUIRREL:
At Chunchi Falls, we were awed by the sight of this SMOOTH-COATED OTTER right on the road, as it ran along the irrigation canal:
Reptiles... a rock would wave its tail.. that rock would be a croc...
a COBRA we saw on the road:
The beautiful villages:
This is "oLagaLLi", the village where Chunchi Falls are..
Some had pink houses and lovely trees!
The path winds away into the future...
Children sometimes have to be dragged!
Colourful "gOpurA"
Shiva, with matted locks, dressed in deerskin, with snakes at his throat, hands and feet, with some politicians
At one village, a fire had been set:
Lovely roof design...
Colourful little vans...
More colourful houses
With colourful washing:
Still figuring out what kind of Nazis these are:
Some random artwork in a village on the way:
We visitd Chunchi Falls, another beautiful place:
We ate a delayed lunch:
Birds: Babbler, Jungle Babbler, Yellow-billed Barbet, White-cheeked Bee-eater, Green Bee-eater, Blue-tailed Bulbul, Red-vented Bulbul, Red-whiskered Bulbul, White-browed Bushchat, Pied Bushlark, Jerdon's Bushlark, Indian Buzzard, Oriental Honey Buzzard, White-eyed Coot, Common Cormorant, Great Cormorant, Indian Cormorant, Little Coucal, Greater Crow, House Crow, Jungle Cuckoo-shrike, Large Darter, Oriental Dove, Eurasian Collared Dove, Laughing Dove, Spotted Drongo, Ashy Drongo, Black Duck, Spot-billed Eagle, Booted Eagle, Crested Serpent Eagle, Greater Spotted Egret, Cattle Egret, Great Eagle, Lesser Fishing Egret, Intermediate Egret, Little Flowerpecker, Pale-billed Francolin, Grey (call) Garganey Grebe, Little Greenshank, Common Heron, Grey Heron, Pond Heron, Purple Hoopoe, Indian Jacana, Bronze-winged Kingfisher, Pied Kingfisher, White-breasted Kite, Black-winged Kite, Brahminy Kite, Common Koel, Asian Lapwing, Red-wattled Myna, Common Myna, Jungle Parakeet, Rose-ringed Pelican, Spot-billed Pigeon, Blue Rock Pipit, Paddyfield Pitta, Indian Prinia, Ashy Prinia, Plain Robin, Indian Roller, Indian Sandpiper, Common Sandpiper, Marsh Sandpiper, Wood Shrike, Brown Shrike, Long-tailed Silverbill, Indian Sparrow, House Stork, Painted Stork, Woolly-necked Sunbird, Purple Sunbird, Purple-rumped Swallow, Barn Swallow, Red-rumped Swallow, Streak-throated Swamphen, Purple Tit, Great Wagtail, Grey Wagtail, White-browed Warbler, Booted Warbler, Blyth's Reed Warbler, Clamorous Reed Warbler, Greenish Waterhen, White-breasted Butterflies (Rohit's list) Hesperiidae - Skippers Telicota bambusae bambusae Oriental Dark Palm-Dart Hesperiidae - Skippers Spialia galba Indian Grizzled Skipper Lycaenidae - Blues Castalius rosimon rosimon Continental Common Pierrot Lycaenidae - Blues Catochrysops strabo strabo Oriental Forget-me-not Lycaenidae - Blues Chilades lajus lajus Indian Lime Blue Lycaenidae - Blues Jamides celeno celeno Oriental Common Cerulean Lycaenidae - Blues Lampides boeticus Pea Blue Lycaenidae - Blues Leptotes plinius plinius Asian Zebra Blue Lycaenidae - Blues Prosotas nora ardates Indian Common Lineblue Lycaenidae - Blues Tarucus nara Striped Pierrot Lycaenidae - Blues Zizeeria karsandra Dark Grass Blue Lycaenidae - Blues Zizina otis indica Indian Lesser Grass Blue Lycaenidae - Blues Zizula hylax hylax Indian Tiny Grass Blue Lycaenidae - Blues Rapala iarbus sorya Indian Red Flash Lycaenidae - Blues Spindasis vulcanus vulcanus Indian Common Silverline Lycaenidae - Blues Tajuria jehana Plains Blue Royal Nymphalidae Danaus chrysippus chrysippus Oriental Plain Tiger Nymphalidae Euploea core core Indian Common Crow Nymphalidae Acraea violae Tawny Coster Nymphalidae Phalanta phalantha phalantha Oriental Common Leopard Nymphalidae Neptis hylas varmona Indian Common Sailer Nymphalidae Neptis jumbah nalanda Nalanda Chestnut-streaked Sailer Nymphalidae Hypolimnas misippus Danaid Eggfly Nymphalidae Junonia lemonias lemonias Chinese Lemon Pansy Nymphalidae Junonia orithya swinhoei Pale Blue Pansy Nymphalidae Melantis leda leda Oriental Common Evening Brown Nymphalidae Ypthima asterope mahratta Indian Three-ring Swallowtails Pachliopta aristolochiae aristolochiaeIndian Common Rose Swallowtails Pachliopta hector Crimson Rose Swallowtails Papilio polytes romulus Indian Common Mormon Pieridae Catopsilia pomona pomona Oriental Lemon Emigrant Pieridae Catopsilia pyranthe pyranthe Oriental Mottled Emigrant Pieridae Eurema brigitta rubella Red-line Small Grass Yellow Pieridae Eurema hecabe hecabe Oriental Common Grass Yellow Pieridae Colotis aurora Plain Orange-tip Pieridae Colotis danae danae Crimson Tip Pieridae Colotis etrida etrida Indian Little Orange-tip Pieridae Delias eucharis Indian Jezebel Pieridae Eurema laeta laeta Indian Spotless Grass Yellow Pieridae Hebomoia glaucippe australis Sahyadri Great Orange-tip Pieridae Ixias marianne White Orange-tip Pieridae Ixias pyrene sesia Dakhan Yellow Orange-tip Pieridae Leptosia nina nina Oriental Psyche Pieridae Pareronia hippia hippia Wanderer Insects: Bees,Damselflies, Dragonflies, Grasshoppers, Spiders, Wasps, various Mammals: Boar, Wild Civet, Palm Chital Mongoose, Common Shrew, Indian Field Squirrel,Grizzled Giant Squirrel,Three-striped Palm Otter, Smooth-coated Homo butteriens: Ashok Deepa Nitin Prashanth Rama Rohit Reptiles: Cobra Lizard, Monitor Snake, Rat Crocodile
Let me close with this Plains Blue Royal, which was a lifer for me: