Day 3, VTP, Kudremukh Tue, 200514
May 31, 2014
Day 3..My official account:
Tuesday, 200514, Day 3
Participants were taken on a drive to see the shola and grassland habitats, and visited Ganapathi Katte, a high point amongst the hills. Post-lunch, Sarath talked about "Tools of the Trade" that a volunteer would require, such as a field notebook, a pair of binoculars, a field guide, and so on. A small explanation about binoculars was also given.
The Managing Director of JLR, Mr Sanjai Mohan, IFS, visited the camp along with Mr Avatar Singh, Executive Director. He also welcomed the participants and spoke of their privileges and responsibilities in the field. He also spoke of the history of the region, with the eventual closure of the Karnataka Iron Ore Corporation Ltd (KIOCL).
Sarath made a presentation about birds, touching on the various ways of identifying them and observing their behaviour.
---
The first sight that met our eyes as we came back from our walk for brefus:
Of course, that had everyone exclaiming, and pointing, and Prathap clicked them doing that, and I clicked him clicking them doing that… i
I found some beautiful mushrooms near Kiran's tent:
We went on a drive:
We went to Ganapathi Katte, and on the way, we saw this CRESTED GOSHAWK drying its feathers:
this SAMBHAR couple made a delightful picture on the grassland slopes:
Here is the view of our camp watch tower and nursery from Ganapathi Katte point: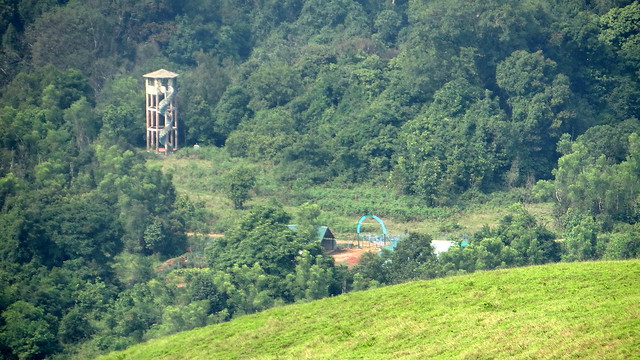 The rocky outcrops amongst the grass were dramatic:
A butterfly came and sat on our van!
I also caught a grasshopper who seemed to be wearing dark glasses!
This little JUMPING SPIDER took a lot of jumping around by me, to get a good snap!
Here we are at Ganapathi Katte:
We were stung to the point of madness by these CATTLE FLIES but when I took a macro shot, one was so beautiful (it got blood out of Kiran's arm!)
Mating grasshoppers made a beautiful pic:
So did a golden Dragonfly on a stick:
Another view of the beautiful curves of this unknown wildflower:
The buds and blooms of the OSBECKIA STELLATA flower,looked pretty:
We trekked down to the place where the camera traps were being set up. The vegetation looked green and inviting:
Gurudatt (with the camera-strap; he is based at Dandeli JLR) gave us a lesson about camera-trapping:
After we returned, Mr Sanjai Mohan (MD, JLR) and Mr Avatar Singh (ED, JLR) visited us and interacted with us:
It was another productive and enjoyable day.
For my overall account,
Click here for my Day 3 FB album
Here's a leech lying (in fact, standing!) in wait for us!