Meanwhile, two weekends in St Louis....
October 15, 2012
Here she is, with Team Asha:
Here's her account: All of you have supported my running now or in the past, and I wanted to give you an update of my half marathon today. Thank you all so much for your support, running with me, belief, good wishes, contributions to Asha and more. I'll organize the pictures and post on my page: click here In the meanwhile, here's pictures of the entire team, with the best ones towards the end: click here I felt excellent, enjoyed the run and finished super strong. I didn'treally know how I'd evaluate myself, seeing that I was significantly slower and having had no measurement or real target, except to feel good the entire time. My non pregnancy best was under 2:05, and today I did just under 2:19. About a minute per mile slower, adequately appropriate for a non pregnant me carrying 12 lbs of weights.I felt very in touch with my body, in harmony and response, steady, calm and at the optimal fitness for the work my body and soul are doing. During my training runs I hadn't targeted pace and was vaguely aware of being anywhere between 11 min miles to just under 13 min miles, supporting the team (who all did great, and finished strong). I didn't really have a time in mind, except for believing I was comfortably capable of something under 2.5hrs (11:45 or better), but perfectly willing to walk the whole thing or even stop and quit if I felt the need.
Bottomline is that I feel very prepared for the rigours of labor and delivery, as well as the demands on my body from having to sometimes carry Kavya. Looking at my splits, I found that it was technically an excellent run. I had 4 split timings recorded during the run - at 5k, 10k, 15k and the finish (20.08k). I stayed so consistent that my pacing varied less than 4 seconds during the entire event. My first 5k was at 10:41/mile, I steadied at 10:43, and in the latter half picked it up to 10:40, and sped up just enough during the last quarter that I finished with a pace of 10:37. I would have wanted exactly this kind of pacing with a x10 variance (ie 4second x10 = 40s +/-) non pregnant. This isn't something I really trained for, because I talked to my body rather than a watch, both during training as well as today, but as it turns out, the conversations with my body were represented by the rational record of it.
All in all an achievement I feel blessed to have the luxury of focusing on. And a manifestation of an overall life balance. My amazing husband has enabled it, all the while training for his own century (100 mile) ride next weekend.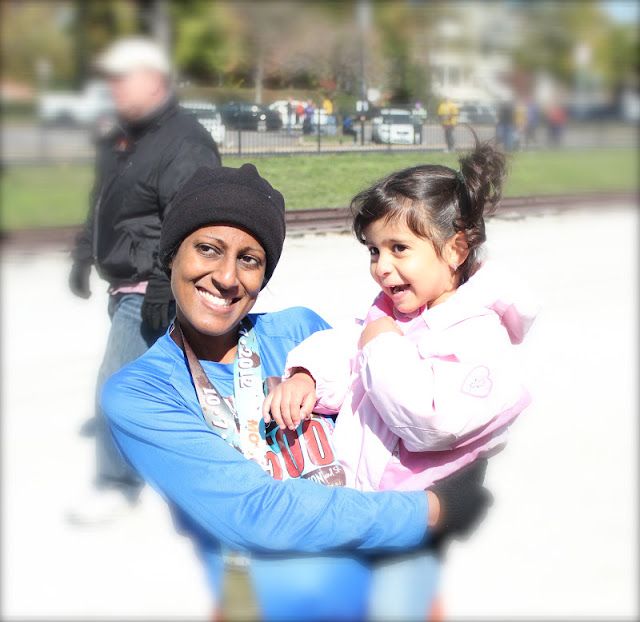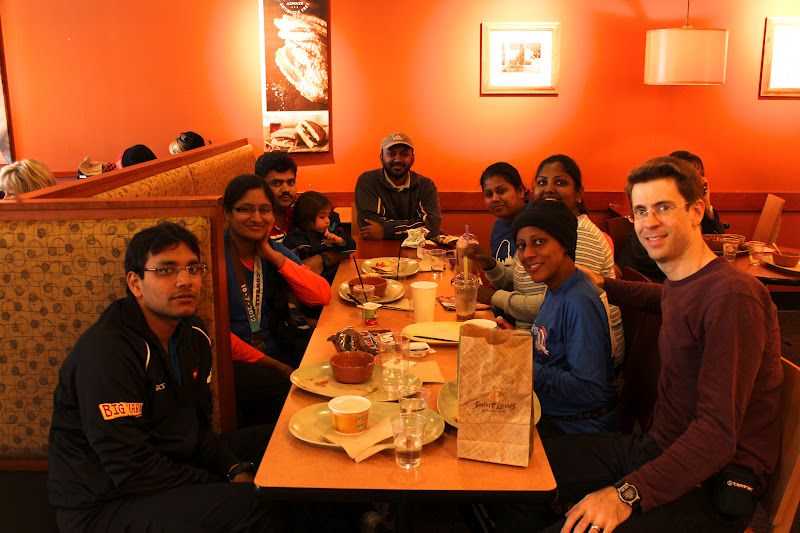 is an account of her commitment and work for Asha For Education.
This Sunday (the 14th of October) DS was off for his Century ride (100 mile ride) which he'd been preparing for. Here's her account of that: During inspection last weekend, D found that his bike had a worn ball bearing wheel. He went to the bike shop three times, twice it was closed, and the third time they didn't have the part. So he finally borrowed Vikas's bike. Vikas had just bought a brand new $900 Canondale that Derek had advised him on about a month ago. D worked nearly 5 hours yesterday (Sat) to fix up Vikas's bike for his 100 mile ride today. After the hard work, and mechanical engineering to get his phone waterproofed, but available to see his route on and charged up with a battery powered juicer, he was finally satisfied. The day was supposed to begin rainy and we decided that he should start a little late to avoid the rain. After he slept, I looked up the website and saw that this year the cutoff for the start time was 7:30am. Not wanting to disturb his sleep, I only told him that in the morning when he woke, and he rushed to get to the start line in time. Fortunately, the rains had stopped, but the roads were still wet. D got to the registration desk in the nick of time. But had forgotten his phone at home. He had his office phone and the first 20 miles of the ride led him by the History Museum, where I was preparing to go deliver his regular phone that he had engineered his hookup for. Within 15 mins of his coordination call regarding his phone, I got another call. The slick roads and the thin tires of Vikas's brand new road bike had claimed him as a victim. He was by the side of the road, bruised knee, even more badly bruised bike, waiting for the injury van to come and get him. He hadn't even gone 10 miles, and was just miserable. He returned home, with a bloody leg and a pool of blood soaked up by his sock. The bike wasn't as mangled as he made it sound on the phone. He first declared that he was going to try to get through the remaining 80 miles (from home) on his mountain bike. But it was too late, it was an extremely windy day, and for him to make the deadlines for lunch and the ferries meant pushing the limits on an injured and bruised knee. All the race day energy pent up, with no where to spend it, he was in a daze. He took the bike to the shop after washing off the blood and the mud. Big Shark helped repair the back lock, the side and back wheel for free. A very nice gesture. It fortunately has turned out that we probably don't have to buy Vikas another $900 bike. That was a huge relief because Derek was thinking that even if we bought Vikas another bike, he wouldn't want to keep this one because the frame was too small for him. Vikas was of course gracious as could be and was not in the least interested in the fixes required for his bike. Derek has decided that it would be fair to spend $150 to $200 in getting him a custom fitted seat to replace the original one that had now been completely scraped up. He is still feeling so miserable from the day, the incomplete ride and the tiny little accident that derailed a lot of preparation, training and anticipated excitement. Fortunately, I was able to find another century ride in 2 weeks time about 3 hours away. It is late in Oct and nearly the last one in the country, except for California, so it's great that it exists and relatively inexpensive. So for his $60 registration today, he got a pair of socks and an ignoble ride back some 10 miles to the start line in the support vehicle. Very sad indeed. He is glad to have ended the day and is asleep now. On the upside, we had a wonderful family trip to the zoo and enjoyed some freebies thanx to Sigma Aldrich - carousel ride, train ride and children's zoo. K really had a marvelous time with us both, and hopefully made some good memories.
Roundabouts and swings…and they seem to deal with both equally well. I love my daughter and son in law so much!