Sindhi School children outing to Bannerghatta zoo area, 241211
December 27, 2011
I was delighted to take 15 children of Sindhi School, Malleswaram, to my favourite zoo area in the Bannerghatta National Park. Subbalakshmi, a teacher in the school, enthuses the children and organizes nature trails for them entirely on her own initiative…the school does not take any responsibility. Even the van was hired by her! More power to her and may her tribe increase!
Here are the children, posing with the Kids For Tigers poster:
For the photographs from the outing,on my Facebook album,
One of the very interesting things the children spotted on the outing was this caterpillar: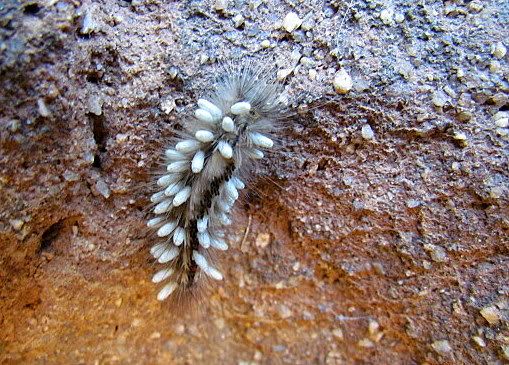 I asked my nature Guru,
whether the caterpillar was carrying some eggs…and he, and
Saptarshi, a wildlife friend on Facebook, had a very interesting story to tell.
This caterpillar, apparently, is carrying the Load of Death!
(click on the name to find out more about these wasps)
apparently select caterpillars, and lay their eggs on them; the larvae, when they hatch, feed on the caterpillar, and form small cocoons on the body of the caterpillar…that's what we saw, above!
The amazing things that happen in Nature are infinite….