Barn Owl Rescue, Thirukkadaiyur, 211211
December 23, 2011
A very eventful and enjoyable week, travelling in Kerala and then Tamil Nadu, attending, first, the COSTIIMA (Class of Seventy Three, Indian Institute of Management, Ahmedabad) annual meet, which was held at Cocobay Resort, Kumarakom, Kerala…and then the Shashti Abdha Poorthi (60th birthday) of Anand, KM's close friend and IIM classmate (a friendship that dates back to 1971!) and Devika, at the beautiful temple of Thirukkadaiyur, seat of Amrita Ghateeswarar and Abhirami.
However, that will all be described later. One of the good deeds that I performed was the rescue of a Barn Owl!
Right in front of the temple, as we were going in, this Barn Owl flew out into the open, in a befuddled state and sat on the ground:
Immediately, I was alarmed to find that the crows started congregating, and a man started hitting the "bird of ill omen" as he called it, with a stick. The bird managed to avoid the man's stick, but was just hopping out of reach: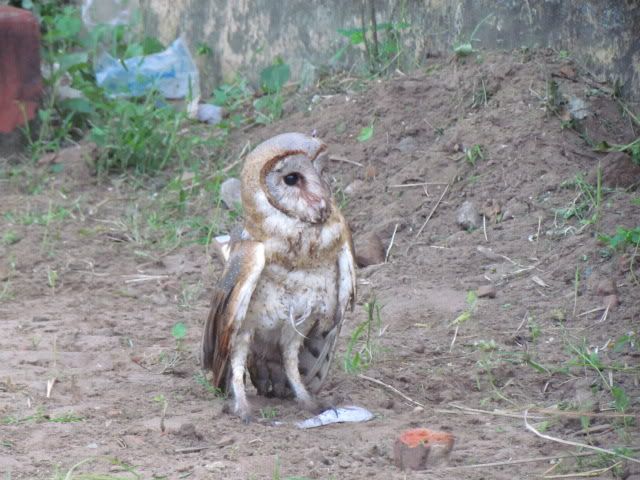 I then managed to catch the bird (I have the scratches to prove it!) and had the bright idea of putting it in the nearby old building which had a pay-and-use ladies' toilet, where the men, the local urchins, and the crows could not get at it.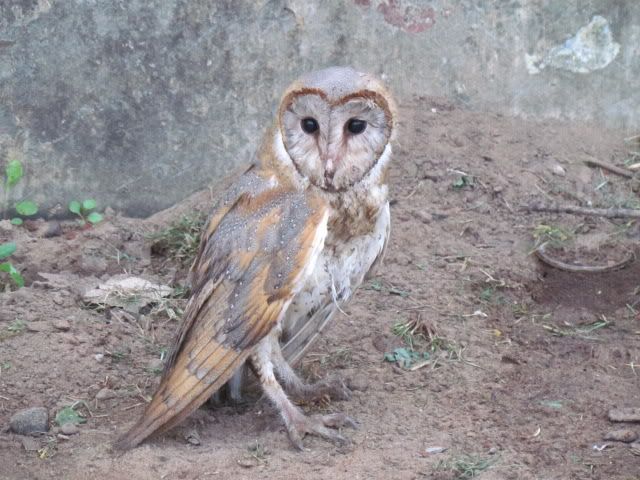 I was rewarded, a little later, by the bird's flying away through the front porch bars, to a heavy-foliage mango tree, where it seemed safe. I was very late for some of the Shashti abdha poorthi rites, but felt very happy about the rescue..otherwise, this bird would have been the main course for the crows' breakfast!