Birds....of a feather
September 2, 2011
Life has been hectic….and with a lot of power cuts, and an erratic internet connection, I've not been able to post at all. I sang on stage this evening, at our apartment Ganapathi Puja..and it felt deeply satisfying. I realize I've neglected my music…
Yesterday, a group of us also did a 140-km nature outing to three lakes/reservoirs in Bangalore….Mavathur, Maralavadi, and Harohalli. It was an extremely productive trip, yielding a tally of 77 species of birds! My photos and account are on my Facebook album,
But here are three birds that captured my fancy:
One, the
DUSKY CRAG MARTIN.
These birds are always swooping around in the air, so I was thrilled when one landed on the pier at Maralavadi Lake, and let me get this shot at full zoom on my MLC (SX30), on the point of taking off again: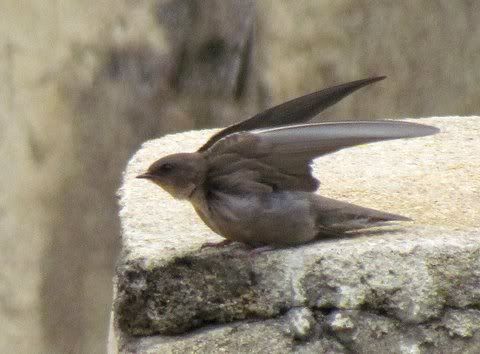 the next bird was a lifer for me. I've seen a
PURPLE MOORHEN
many times, but never seen a chick before…so I loved it when I was able to click mother and chick at Harohalli Lake:
and the last bird is my favourite monsoon sighting, the
PIED CUCKOO.
this bird is the one referred to in Indian literature as the "Chakor" or the "Papihara" that awaits the monsoon longingly. Here you can see the bird enjoying the monsoon breeze!
And instead of birds of a feather, Radha picked up a feather of a bird:
We are trying to see which raptor has lost a feather…!
Oh, wow, 1.25 am, and I am going to Lalbagh for a nature ramble at