Uttara Kannada trip Vinuthas home stay, Gudavi, 130811
August 16, 2011
The trip to the land of the
organized by Poornima Dasarathi and Geetanjali Dhar
opened a window to a part of Karnataka I had not experienced before….
Here we are, after travelling through the night from Bangalore to reach Banavasi at 2.30am..and having had a nap and shower to refresh ourselves, ready to leave for the morning's outing...some of us are not very keen to be photographed!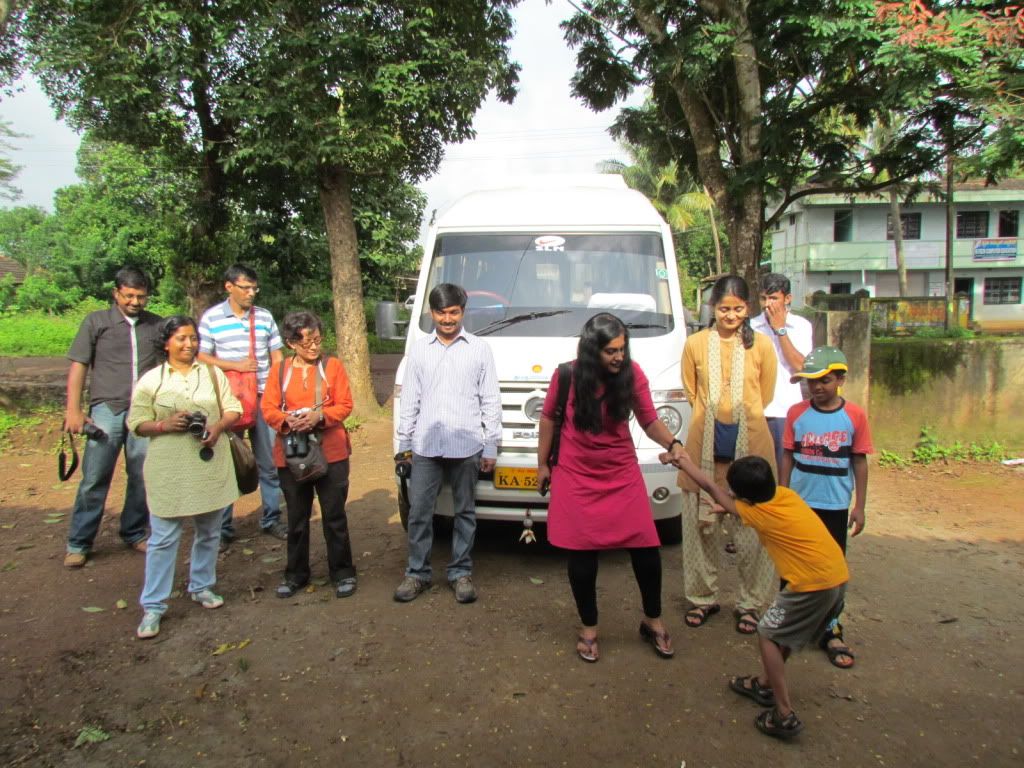 We first went to Belligavi, where we had a superb breakfast at the home of Savitamma; my photos of it all are on Facebook, here However, I'd like to write about the wonderful time we had at Vinutha's estate in Gudavi, the Kanthapalli Home Stay (they have no website!)...here's our beautiful hostess, who serves lunch to those who call ahead and order a meal, at Rs.100 per person.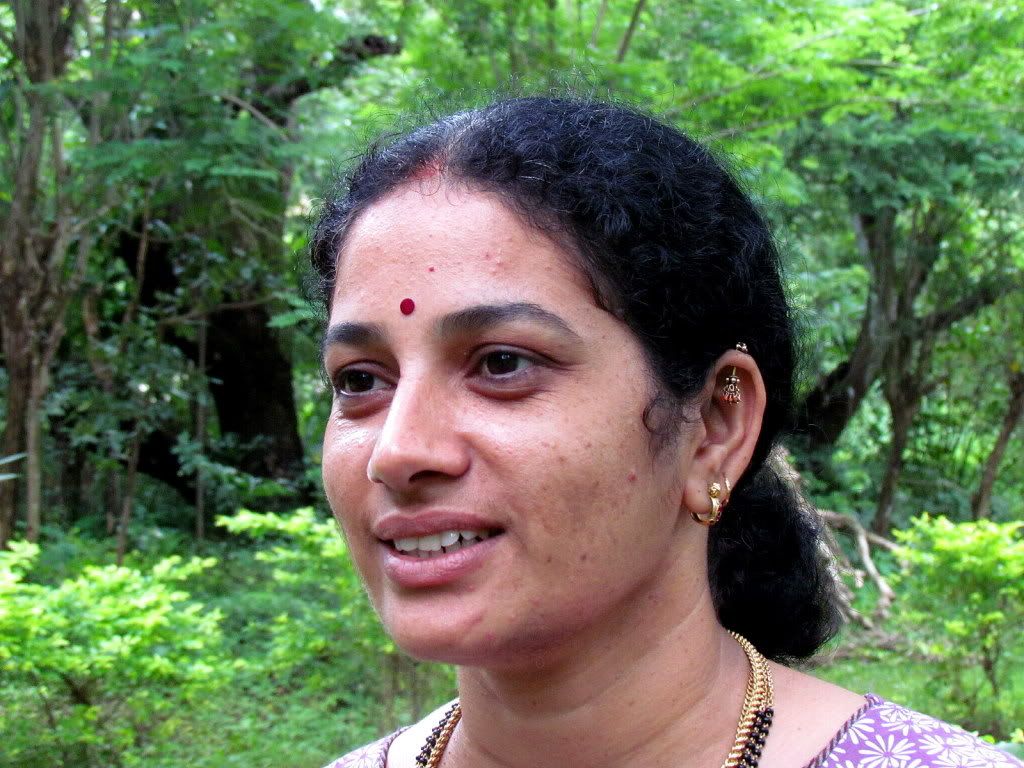 This lady has a beauty that does not owe anything to cosmetics; she's going to look as beautiful when she's 80, I think, as she does now.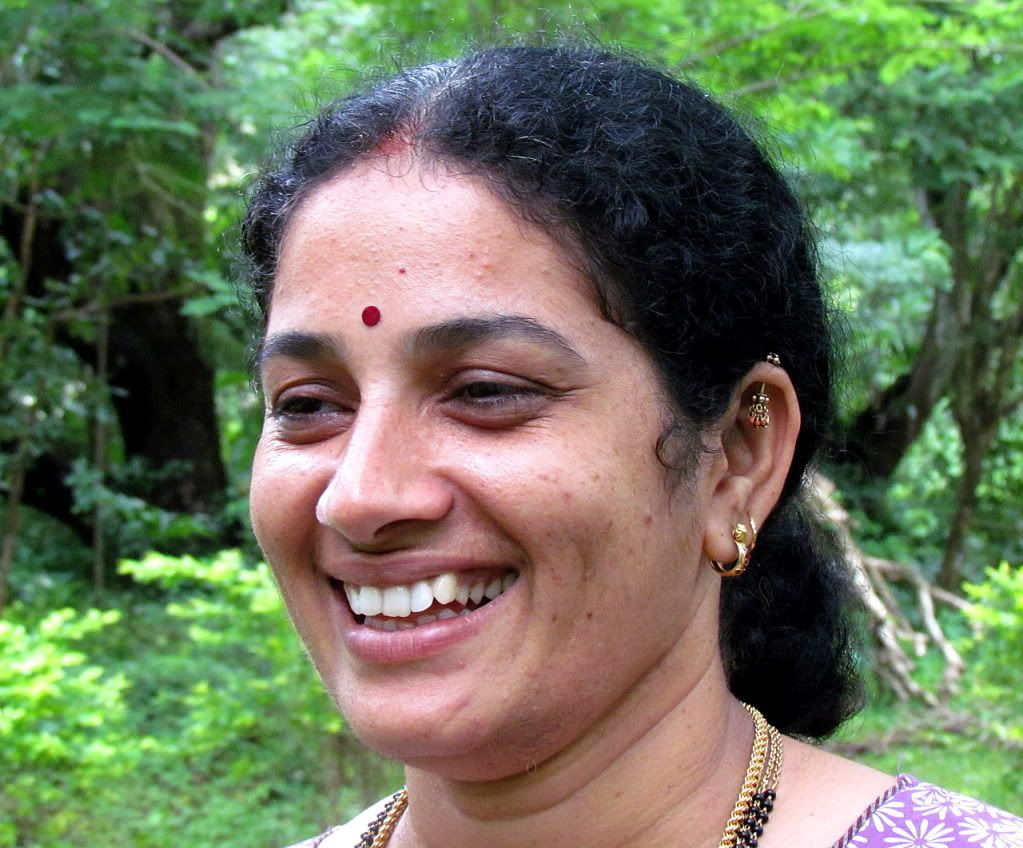 She and her husband moved a few years ago to Gudavi from Bangalore to manage the estate and the farm, and its clear she means it when she says she's very happy here. Her husband (whose name I never got through the afternoon!) has a leather garments export business which takes him to Bangalore regularly; but though all her relatives live in Bangalore, she says she hardly ever goes there. Their daughter, Punyashree, goes to the local school, and she says she is very happy with the education she receives there. This contentment and happiness show, I feel, in her face. She showed me the mark of a wedded woman, the silver "kangaN", that women traditionally wear on both wrists, but she wears only on one. It was a lovely piece of jewellery: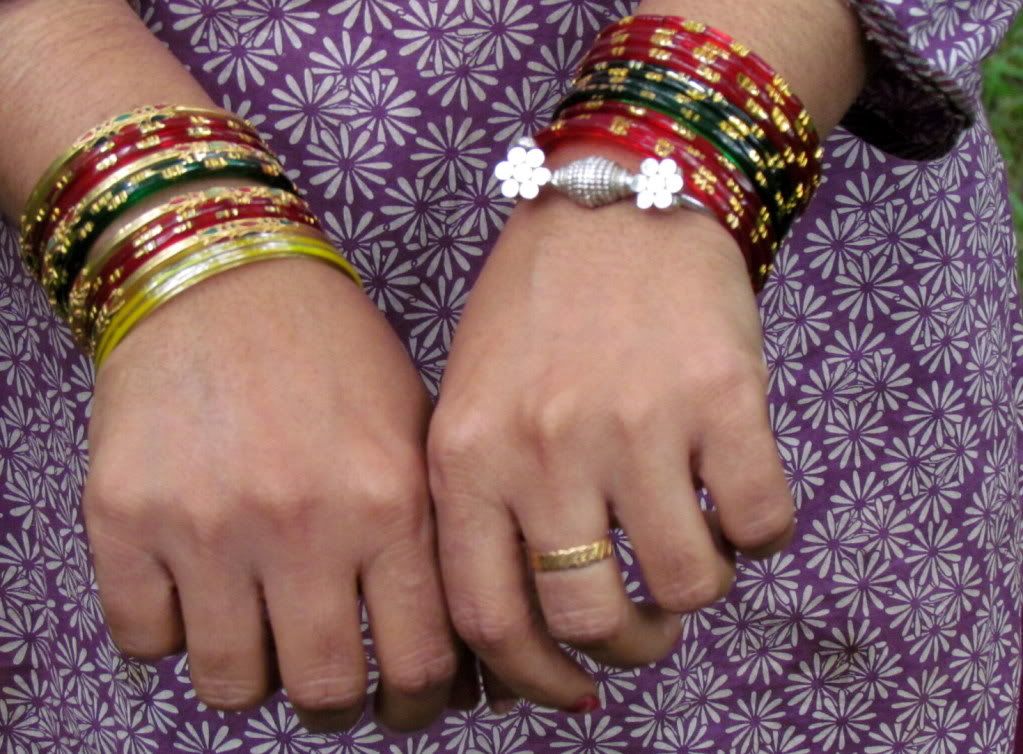 She knows a lot about herbs, and showed me this leaf of a plant, called "madhu nAshini" (sugar destroyer), which she asked us to chew. It had a mildly bitter taste...
She then offered us a spoonful of sugar:
..and I assure you, the sugar had no sweetness at all..it tasted like sand! Her husband also showed Ganesh this extremely bitter leaf, called "The Queen of Bitterness" (kattuka rANi):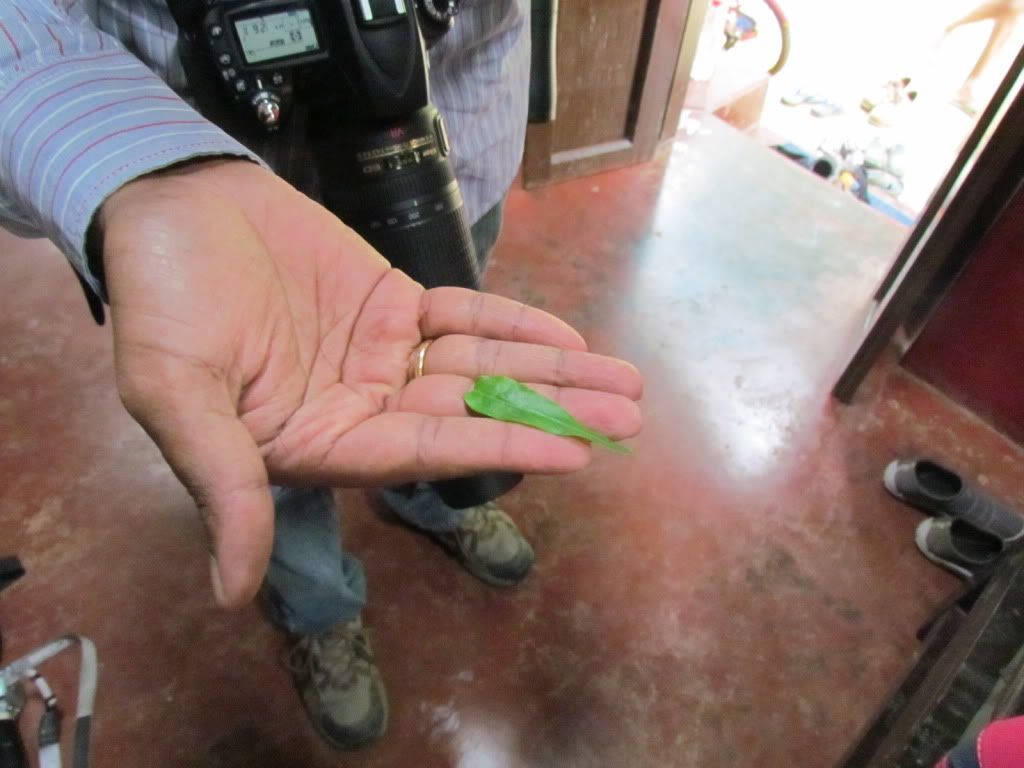 We teased Ganesh about his first girlfriend being such a bitter queen! Vinutha also showed us the vanilla plants, the pods of which the competent businsesswoman exports:
I photographed her ear ornaments, too:
She and her husband were discussing various things around the farm, as we wandered around: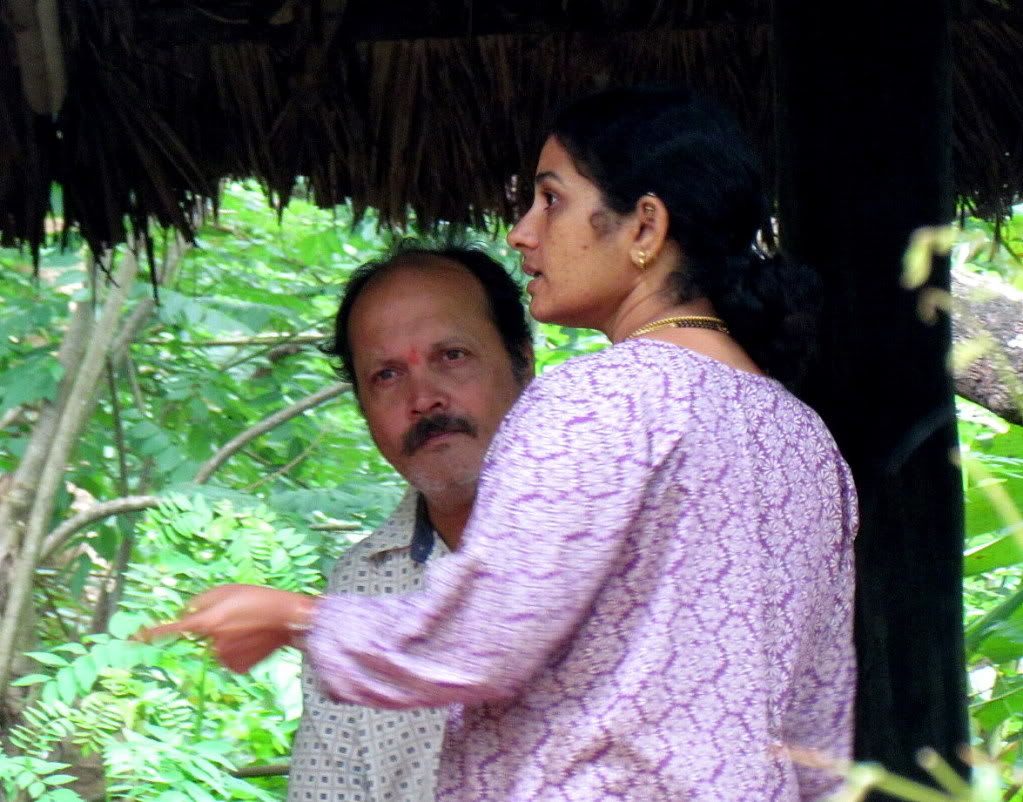 The farm is beautiful, too. here's a decorated window: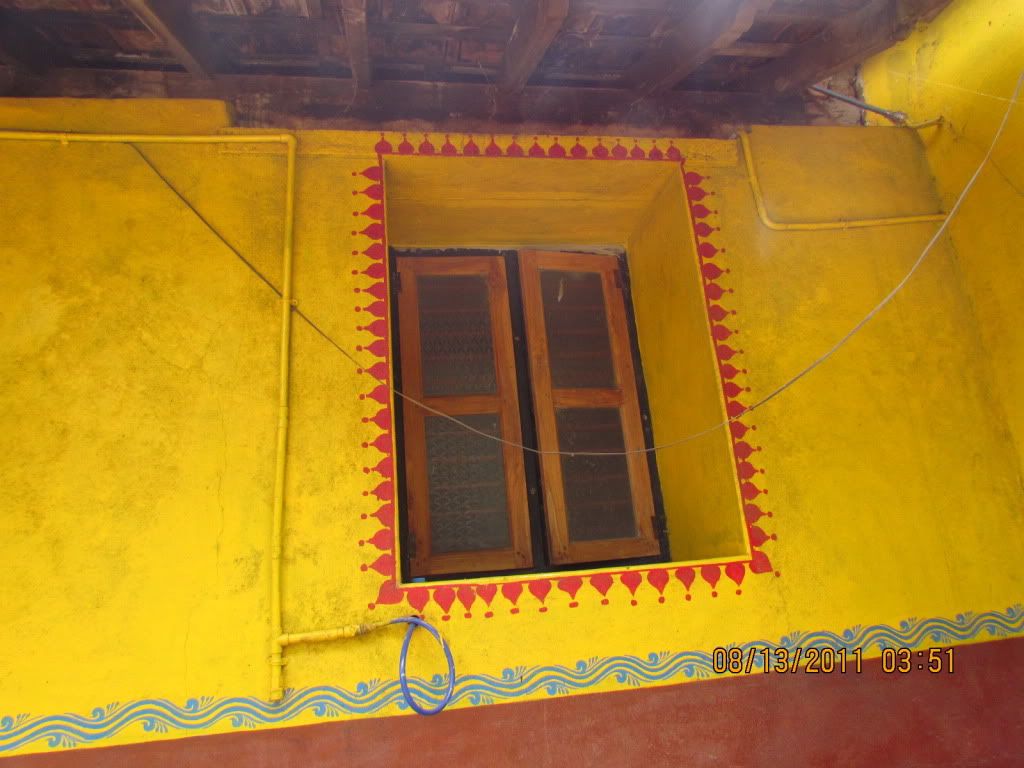 The pathway has tiles whose sides are glowing with moss:
Vinutha's home is lovely, too. Here's the puja room...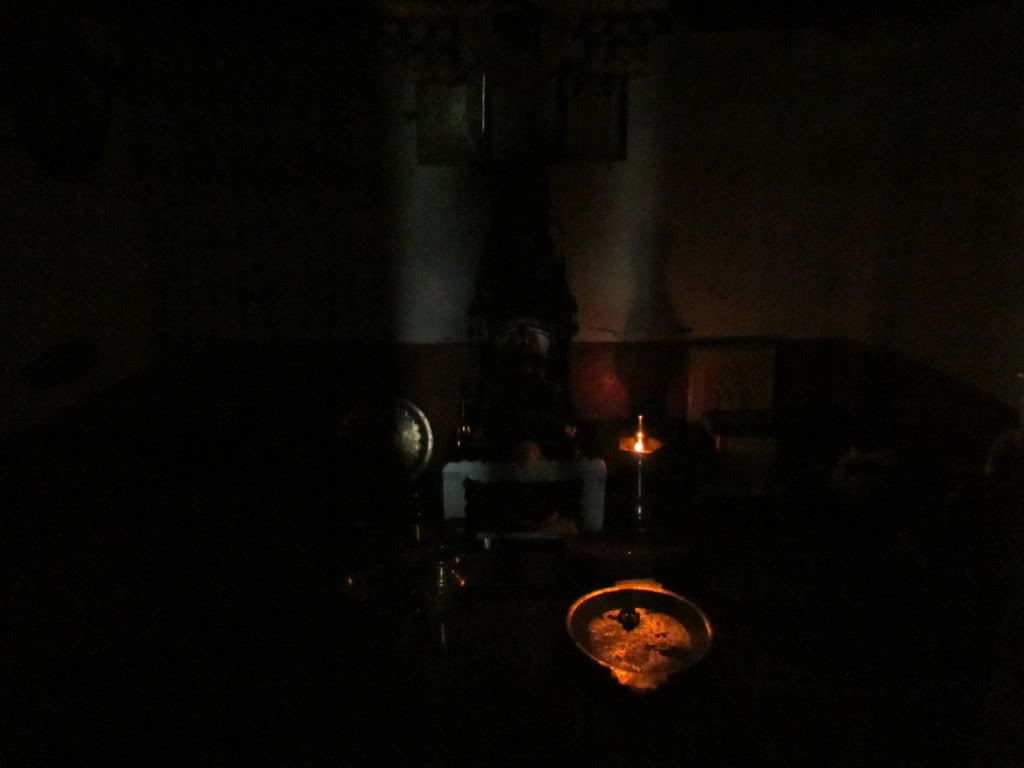 I then used the flash: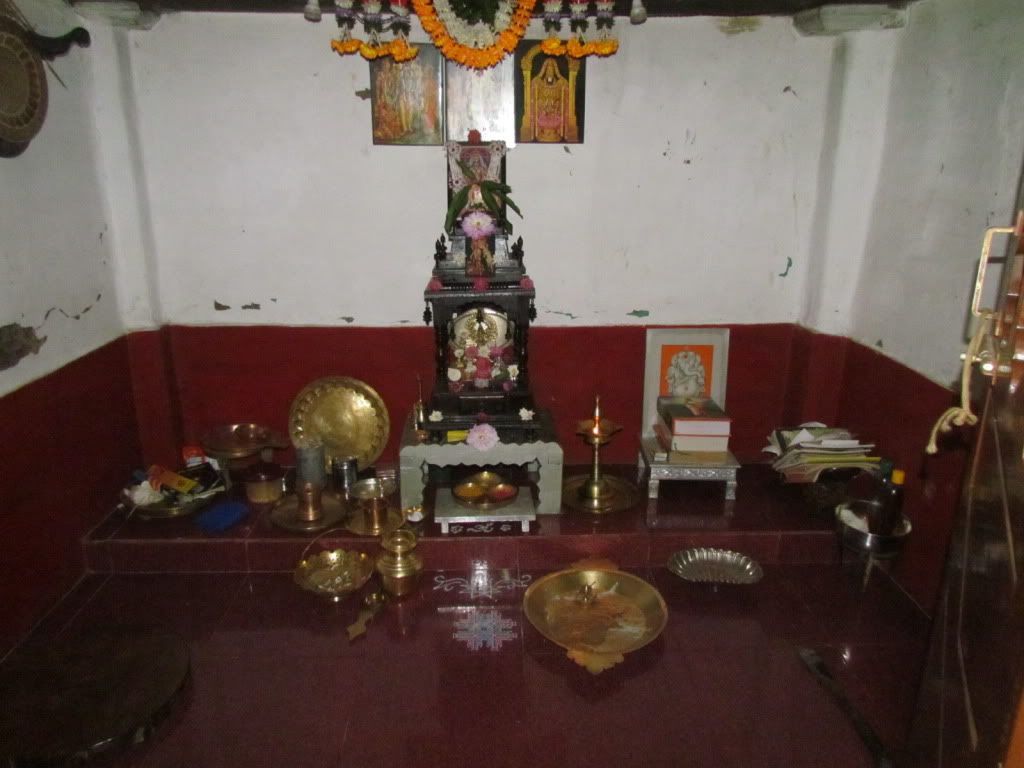 Her kitchen is very modern, though!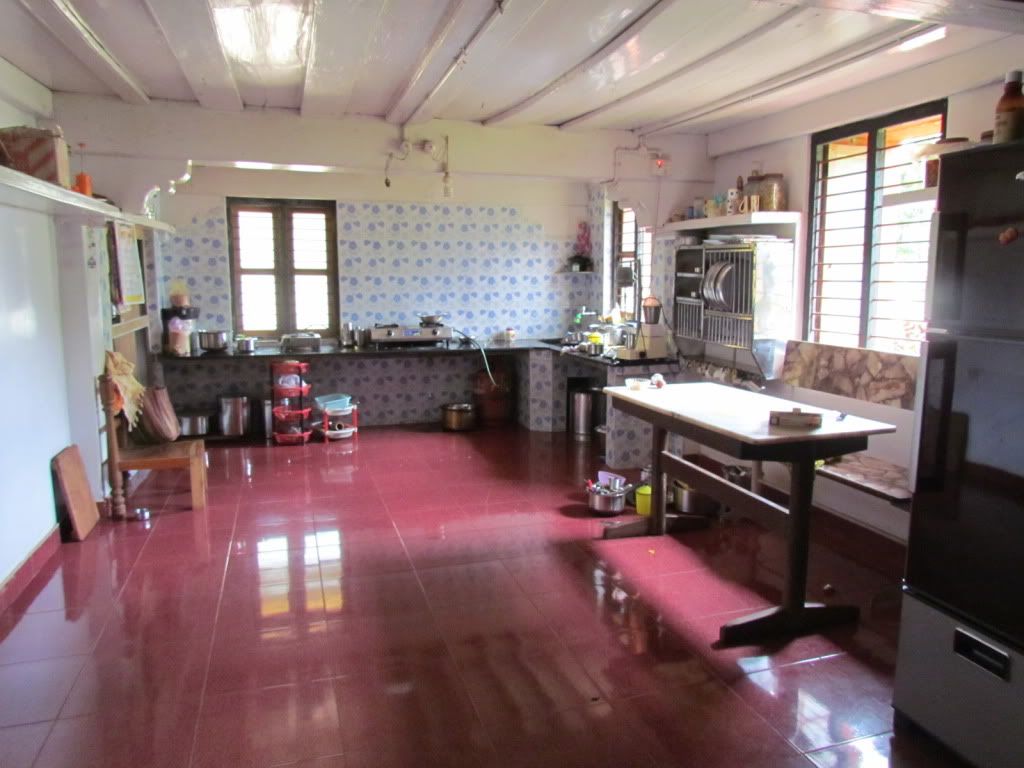 The vegetables were piled up for the next meal:
The room next to the entrance: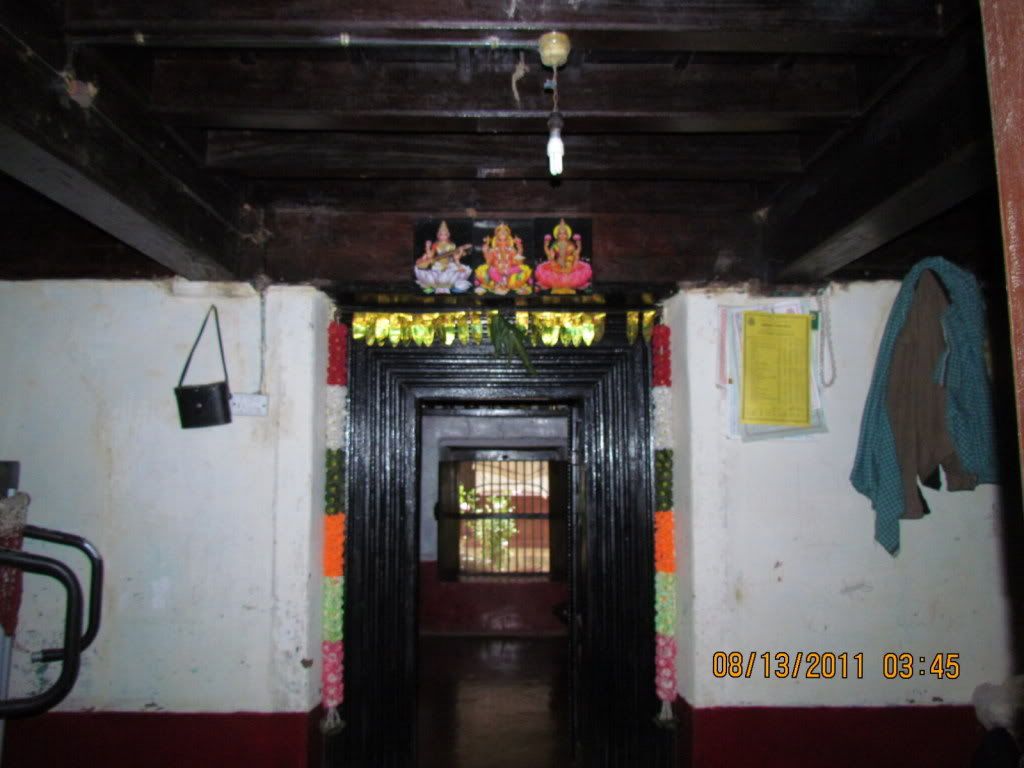 The room had brass and bronze vessels over the window:
At the public dining building, several century-old kitchen implements were displayed on the wall:
Lunch consisted of rice, sambar, chips, pAppad, chitrAnna, various "pudi"s, sAmbAr, muLLangi soppu pAlya (radish greens), and mango chutney....with majjige (buttermilk) to wash it all down with, and fruits and hoLigE (a sweet made with lentil flour, coconuts and jaggery) as dessert:
They have a lovely swing that visitors can relax on: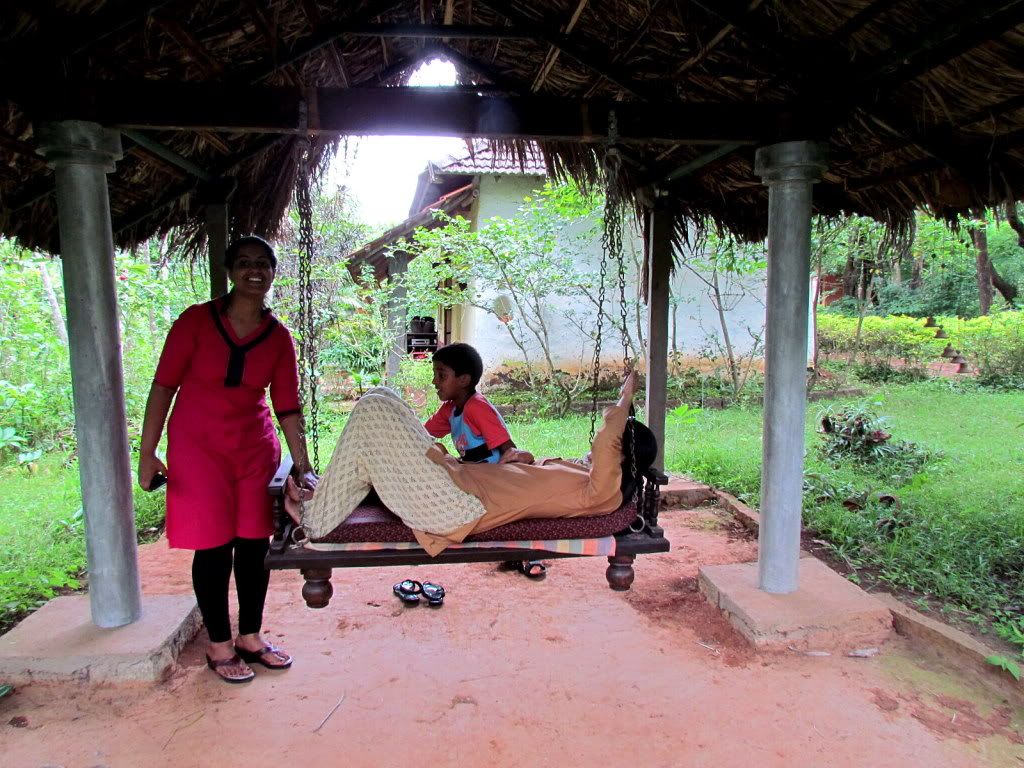 The genuine warmth of her hospitality, and her very competent management, impressed me greatly, and it was with reluctance that all of us gathered together to wish her and her busband goodbye: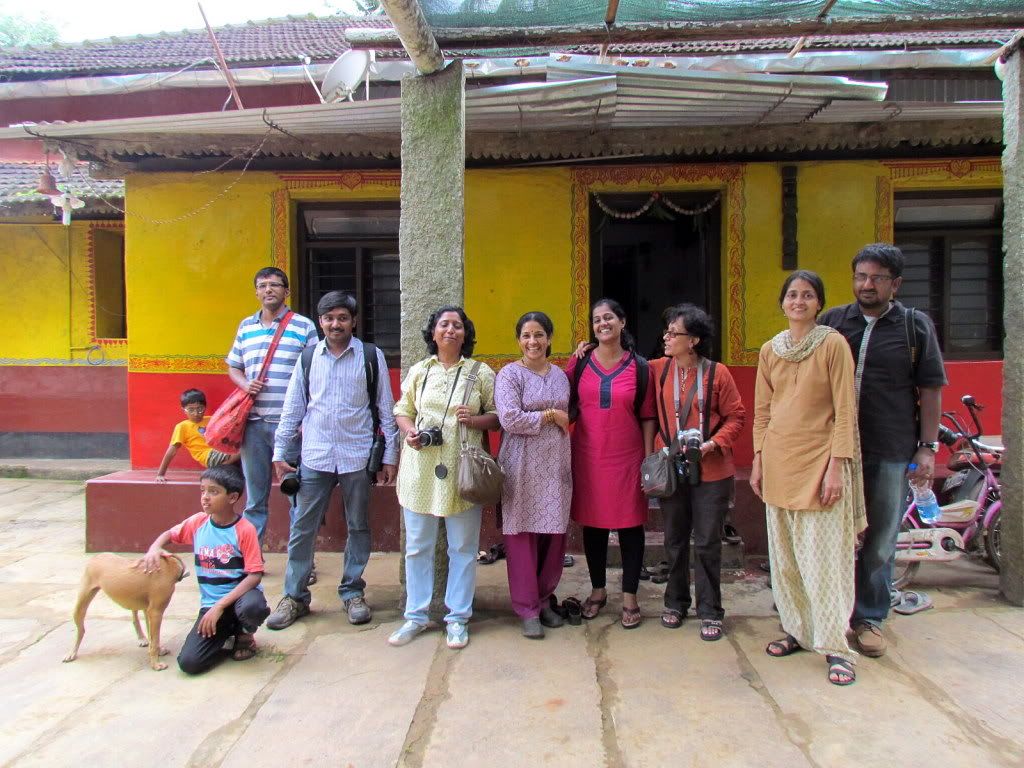 It's a pleasure visiting home stays like this, which are well-managed and yet maintain the personal, homely touch. I hope there are very many more Vinuthas in our countryside, welcoming visitors who wish to learn more about their own culture and heritage!
If you want to see my photographs of the various temples we visited, go to my Facebook albums,
for the Kedareswara temple
and here
for the other temples we visited.