Bomb Threat in downtown St.Louis, 080811
August 9, 2011
Yesterday, near the downtown area (very close to the Gateway Arch) where A works, someone spotted a small strolley, and it was treated as a bomb threat. (A took the two photographs from her office window.)
Here's the strolley, isolated by police tape:
She said that a robot, just like the one I'd photographed and taken this video of in 2009 (this was part of a police-meets-the-public program at the Loop)
Was used to investigate the suitcase.
But a protective-suit-clad bomb expert investigated the bag…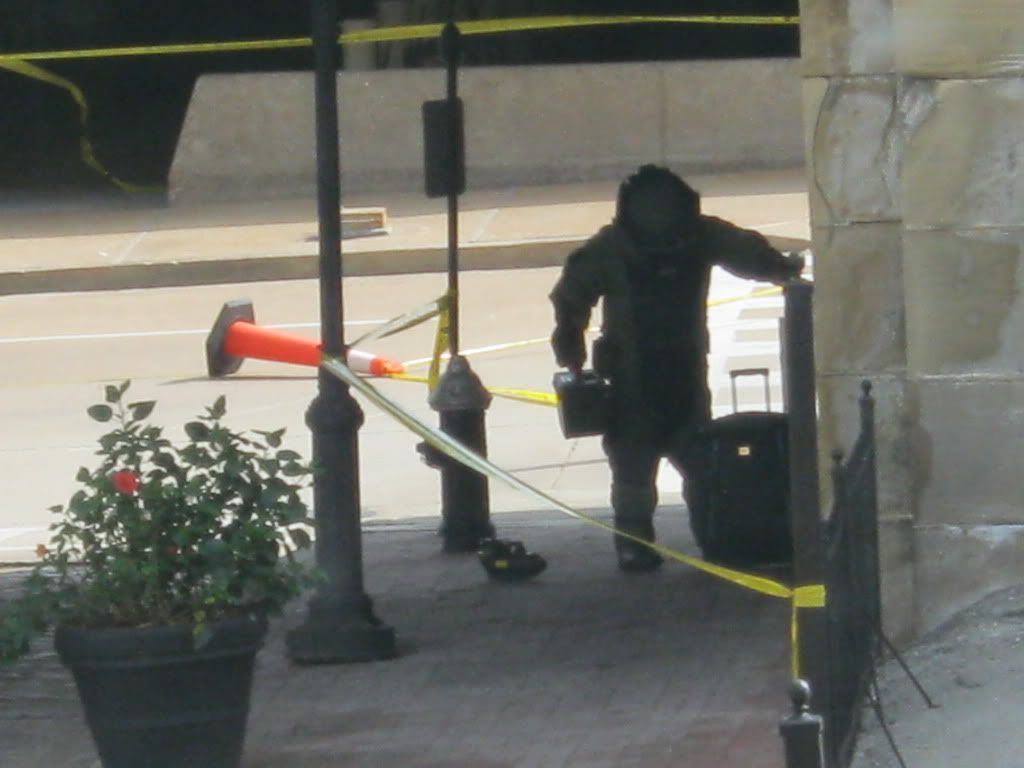 I can only imagine how stressful and dangerous such a job must be…never knowing what it is that one is going to approach, laying one's life on the line each time….
Finally, the bag was opened…and, A says, they found toothpaste and underwear inside!
Here's D's comment on who might have left that bag:
"A disgruntled citizen, no doubt, who is annoyed at having any tax dollars (that they may or may not have paid) going towards "wasteful" projects. Well, what a waste if a bomb were actually to blow up the bridge… how many more tax dollars would be spent repairing that? But, I digress. It's just one theory. Another one is that somewhere there is a person trying to check their bag at the airport before getting on a plane and thinking, "hey, where's my suitcase?? Oh… shit!!!" And he might just be lucky enough to see one of the terminal TVs showing CNN, showing live coverage of a bomb squad blowing up his suitcase."
That's hilarious…but the next bomb threat may not be so….the Bomb Squad can never afford to relax.