An Amazing Piece of Furniture....
July 21, 2011
I've seen a lot of
and lots of porch furniture. But whenever I go to visit our friends in Columbia, Missouri, their glider-rocker porch set just stuns me afresh!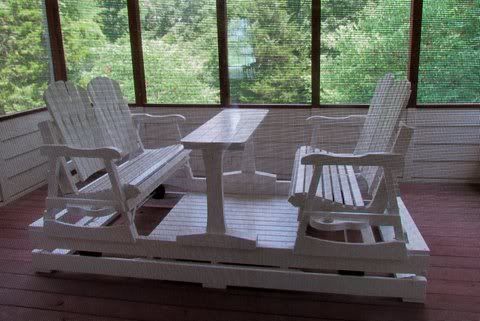 The whole set…the two seats opposite each other, and the table in between…glide back and forth…it's amazing to me that one can have (within a reasonable ambit of movement, of course!) a cup of tea or a drink, and a snack, with everything moving together!
Our friends found this unique piece somewhere in Connecticut, and I cannot suppose that it has been easy to move it around as they did, to Florida, and then to Missouri. However, that's what they've done, and their beautiful home in Columbia has a lovely porch which seems to be an area exactly meant for this wonderful piece of furniture….I've never seen anything like it before, and I don't think I'm likely to, either.