A visit from the police
July 20, 2011
All the residents on our block got this email from the residents' association (or whatever it is called!) a few days ago:
"Two Officers will be in the neighborhood tomorrow 7/18 from 4-6pm to properly mark your property, assets such as flat screens laptops, desktop computers, ipads, other electronics that can be taken from your home. They will also pass out safety information to help protect us against crime. For more information contact the officers directly: Officer Michael Butler and Officer Kathy Suarez North Patrol Special Operations."
Sure enough, at about 5pm, several police officers rang the doorbell, gave us a sheet of paper on which we could list out our valuables. They also brought a special pen with which they marked the TV, the laptops, and few other valuable items around the house. They also told us that we could make the list at our leisure and keep it ready.
As they left, I went and asked if I could photograph them, and they agreed: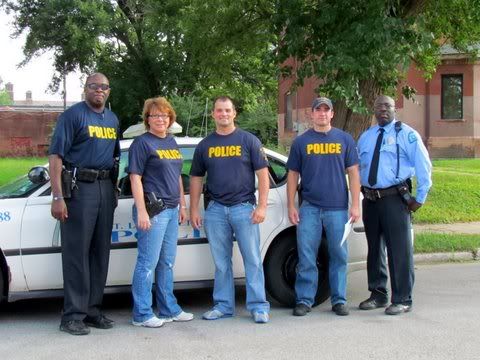 How lovely to have such an interaction with the police force! Instead of the usual "us-and-them" feeling that I often get in India, here I got a feeling of committed officers, working hard for our welfare. I watched them talking to many of the neighbours, too, in the sweltering heat of the day, before they finally left. One of them was in casual clothes, one in full uniform, and the others had "POLICE" tees!
They can't have an easy job….in a society where, especially, guns are so prevalent…so I appreciate their efforts all the more.
I emailed them the photograph, and got an immediate reply from Janice Y Bockstruck (who's in the photo):
"Thank you for sending us a copy of the picture. It was a pleasure to serve the community in such a positive way and meet such nice residents as yourself who support our efforts!
"Lt. Janice Bockstruck"
Wow…I'm hoping for the day when I can email Karnataka Police, and get a quick reply like that…..but meanwhile, thank you, St.Louis Metropolitan Police Department.