Fire and Ice
June 16, 2011
As we returned from the Taming of the Shrew, we were crossing the usual Fire Station (E30, that I have written about
and I saw that the fire engine was missing. I wondered where the fire was, that it had gone to put out, and KM was bantering, saying that even when they went out for a snack, the firefighters had to take their fire engine with them…as we crossed the fire station, I saw the fire engine coming back.
But as we turned in from Delmar into Goodfellow Ave, I saw the flashing blue-and red-lights of several more engines, on Enright….and it turned out that the freezer that someone down the road from us, had bought and installed, had burst into flames….here's the scene of the blaze;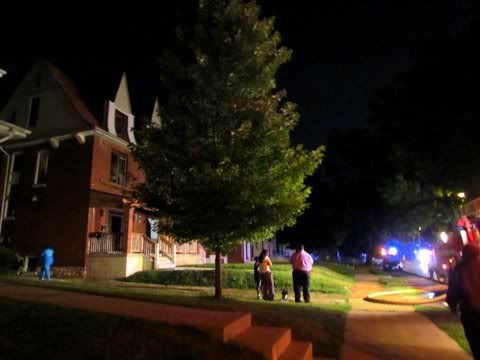 I thought of the irony of a freezer bursting into flames..and also recollected that I'd seen a whole lot of ice dumped on the grass, behind one of the marquees where food and drink was being sold at the Shakespeare festival (indeed, being utterly jobless, I had photographed it as well!)
The basement of the house was damaged, but luckily, no major harm seemed to have happened to the house (must take a look at it on my walk tomorrow). But it made me muse on the twin concepts of fire and ice…..