The Bear, the Octopus, and the Bunny
June 14, 2011
Jeddy Narayan is a bear of somewhat ancient vintage; he's the only bear I know, who has moved from Europe to Asia to America.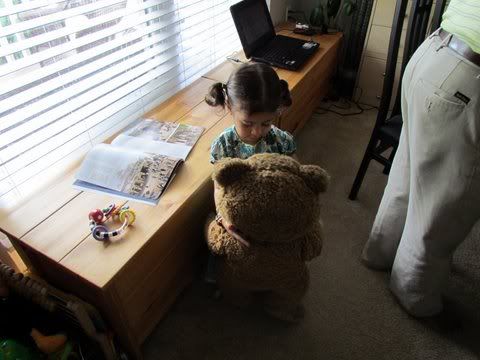 This teddy bear was given to a little girl, aka , by her uncle, who lugged him all the way from London, to India, for her. She was quite literally attached to it; she called it, at first, "Teddy Narayan". She would never move without it, and from the time she put on a pair of her own panties for the bear...panties are called Jeddy in Tamizh...the bear changed his name to "Jeddy Narayan". JN actually went without a visa to the US, when the not-so-little-any-more girl went to study there...and now...keeps that little girl's little girl company!
You can also see an octopus (rare sighting!) in the photo below: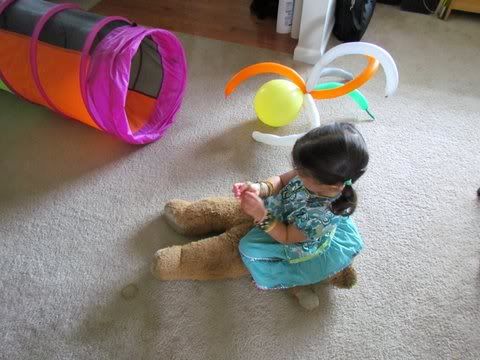 As you can see, LG's LG (KTB) doesn't always treat the bear too well...but I think he can grin...and...bear it! Another animal, bearing the ears of the Energizer Bunny suddenly arrived home when DS returned from his 5K "Run For The Cure" (fight against Breast Cancer) run on Sunday. This Bunny looked at her grandfather....
Gave a big smile...
And a very sweet kiss!
So..these animals make up the wildlife right at home…