February 3rd Sunday outing to Shivanahalli Ramakrishna Ashram, 200211
February 22, 2011
It was quite a large group that met up in front of my home, and we all proceeded first to the Ragihalli sheet rock area. It was still pre-dawn, the time referred to by the ancients as Usha….but the lights in the valley were twinkling, and the dawn was approaching:
The whole group gathered together at the Ashram, and we listened to Swamiji's plans for long treks in the near future: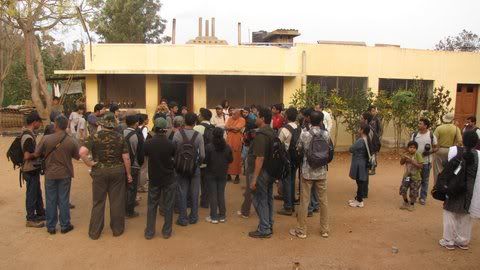 I have often written about how unusual the Swamiji is; he has greened the forest area and several parts of the Ashram, always encourages the children of the Ashram school to get outdoors, and is running the plantation also successfully. There's coffee, cocoa, arecanut, coconuts, and also GREEN PEPPER vines:
We divided tha group into two; one group went off on an all-day trek/trail, and the rest of us went on a shorter trail. As we walked along, Anushka (and the rest of us, too!) were delighted that a CRIMSON ROSE landed on her dress,and stayed there for quite half an hour!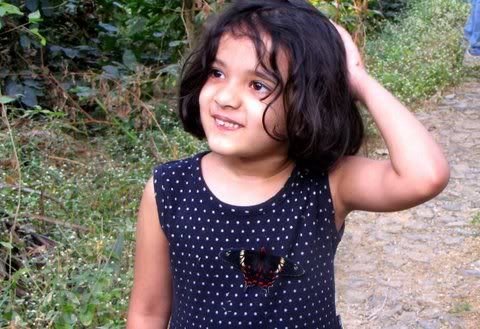 The guide for our group, provided by the Ashram, was Siddappa:
I was too busy making sure that the group (we were still a fairly large one!) did not stray off in different directions, to do much photography, but one of the things I liked was this PENINSULAR ROCK AGAMA posing for us at the gate of Camp Gee Dee:
Once we came back, these young schoolgirls, in their colourful clothes, clustered around Carolyn and Nina, and they were all chatting nineteen to the dozen, and the girls were looking at their photographs!
The Ashram provided excellent idli/sambar and pulao for every one...most of us made it brunch!
On the way back home, I was just wondering why I had not sighted our usual By-the-Roadside
SHIKRA
…and wham, I found Sushil and Vaibhav had stopped their bikes and were aiming their cameras at the beautiful bird!
More photographs on Facebook,
It was a lovely outing, though it did get rather hot towards the end; thanks to Adhikari for taking Carolyn, Nina and me along…and stopping for a cold pineapple juice to cool down a very overheated Carolyn.
and have gone back to London and Sweden...I am missing them, their affectionate company and their unbridled enjoyment of everything that my city, State and country had to offer them...