Arti for the Ganga, Haridwar
February 16, 2011
We went to Haridwar to meet
Tandon Uncle
he's fought his way successfully through the gigantic waves of "bhav sAgar" (world ocean) and now lives a life of detachment and devotion, at the Akhandasharam in Haridwar: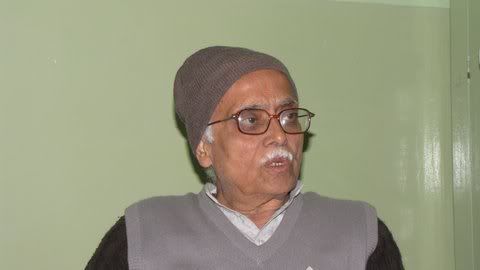 Having faced all sorts of adversity in his life, he is a tower of strength, and is a kind of substitute elder-brother/father figure to us….and with him at the Ashram, steeping herself in devotion to Gangaji, is his wonderful mother, whom we only know as
Dadda: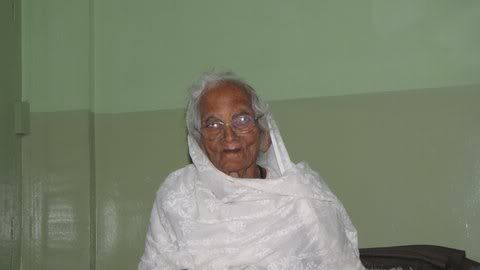 She's well over 90, and as chirpy as a sparrow, and though I hope to be like her if I reach her age, I know I will never come close. I've written about her
too.
One of the highlights of Haridwar is the evening arati offered to Mother Ganga. We travelled to Har Ki Pauri ghat, crossing the statue of Shiva in the evening light:
As we crossed over the bridge, I saw gulls wheeling overhead: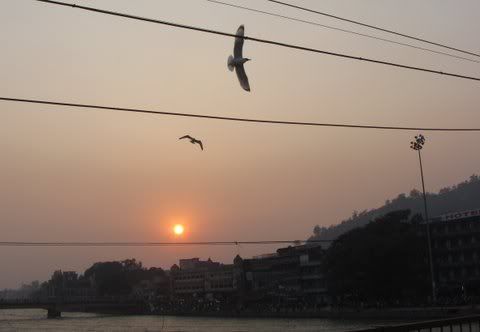 Devotees buy these stitched-together leaf-containers of flowers, and camphor, to be floated on the river in act of worship:
Sometimes the "leaf-bowls" are really large!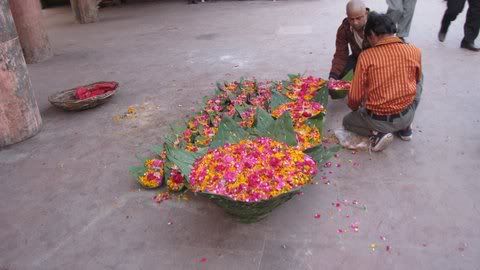 Everyone settles down on the far bank to watch the arti across the river,and capitalism rules, as everything, from newspapers to sit on, to space to sit on, is sold!
Here is one of the several shrines across the river: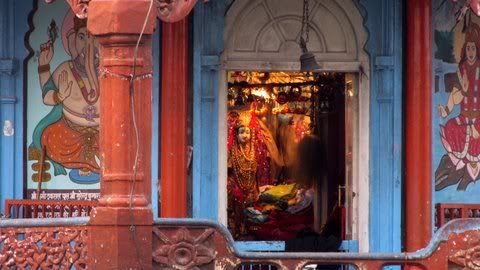 Here is the shrine to Ganga...Ganga mandir:
The showing of the flames of the Arti begins: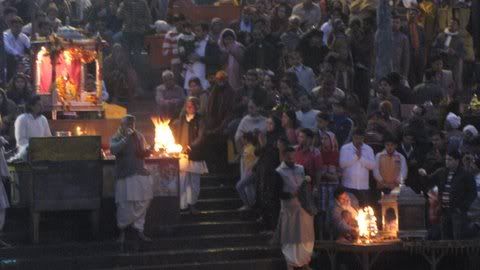 Dadda told me that it started with three artis being shown;now there are 21. Here they are, in a line, on the river bank: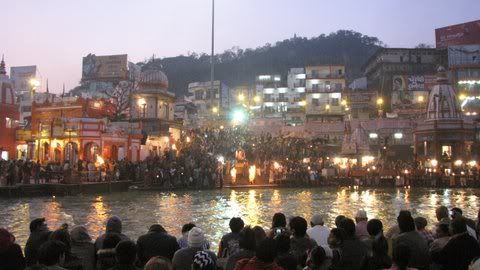 After the Arti, Uncle took us to the market area, and I loved the sight of such a variety of puja (worship) items in this shop: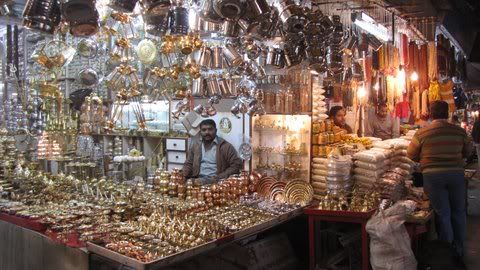 Sindoor is also sold, and is piled up in the shops: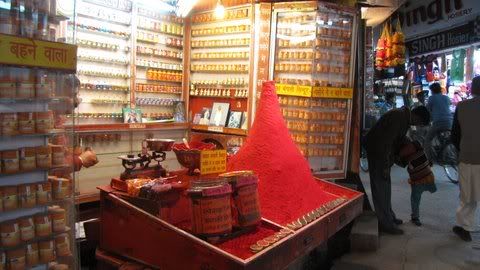 I forgot to photograph the poori-bhaji that Uncle took us to eat in this very special shop, called "Mathura valon ki pracheen dookan" (ancient shop of those from Mathura)
...but I managed to click the stitched-leaf plate, and the pressed-leaf bowl, afterwards!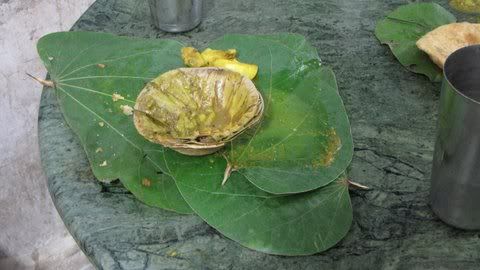 This post is dedicated to who MUST visit the shop when she goes to Haridwar to visit her father and grandmother! </lj-cut> For all the photos, go to my Facebook here