Valley School, 080111
January 8, 2011
It started out as three people…Naveen, Nandan and I, going to Valley School; but the minute I realized that more people could go…I ensured that more people DID! So finally, it was 8 of us who had piping hot coffees at Park View, before going off to a misty morning at Valley School…..here IS the misty morning:
Of course, the minute you enter Valley School, one or more dogs appoint themselves your guides, and stick with you throughout your outing!
Here are the other seven, engrossed in bird-watching and id-ing:
We started with the lovely sight of several SILVERBILLS in the morning light:
and a couple of them were foraging on the road: An ORIENTAL MAGPIE ROBIN came and went:
Several COPPERSMITH BARBETS which Valley School is famous for, made their appearance: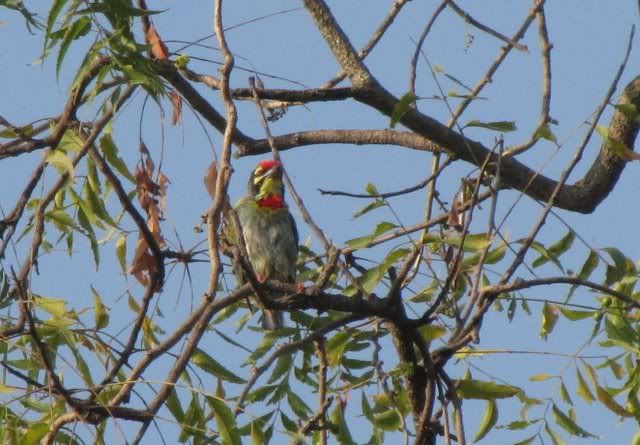 We watched this JUNGLE MYNAH with the blue eyes, trying to make its nest in a dead palm tree: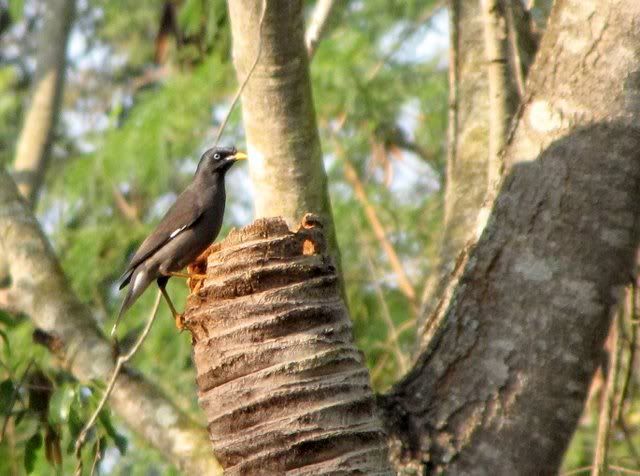 A SHIKRA kept giving us great sights...on the tree and in the air..in fact, one was flying above us just 4 km from my home, over Reliance Mart junction!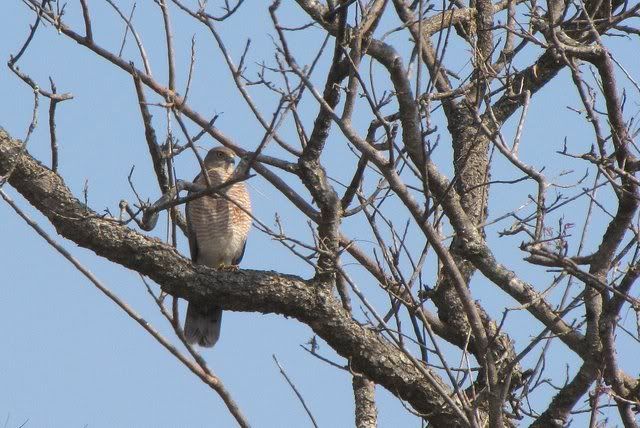 I loved the scene with the WHITE-BROWED BULBUL: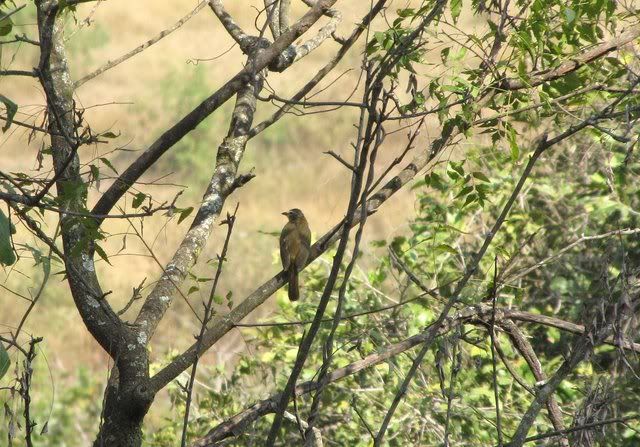 Overhead, we saw one of the usual ORIENTAL HONEY BUZZARDS: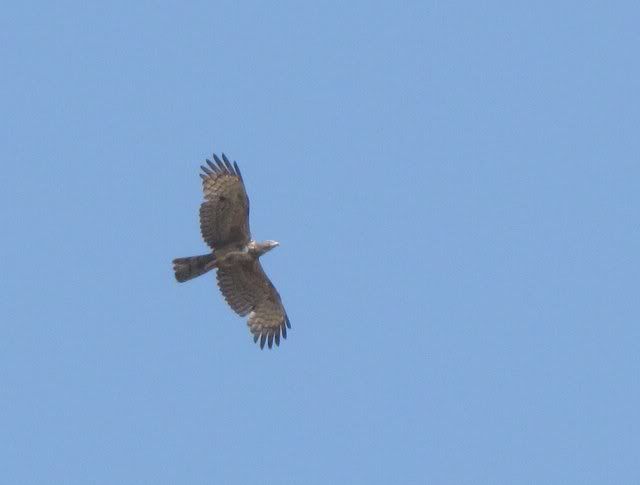 This CALOTES was hidden between the leaves, but we spotted it as it was spotting us!
Vittal wanted me to document this DEBRIS ORB SPIDER for further id: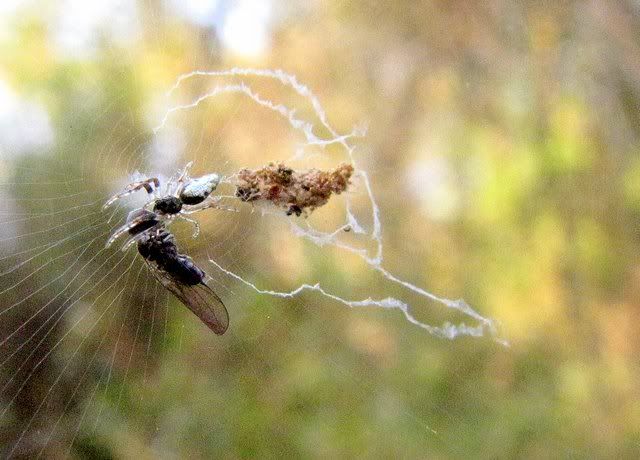 and there were many WOLF (or FUNNEL-WEB) SPIDERS about, sitting at the entrance to their parlours:
Of the several butterflies that we saw, I got the ROUNDED PIERROT: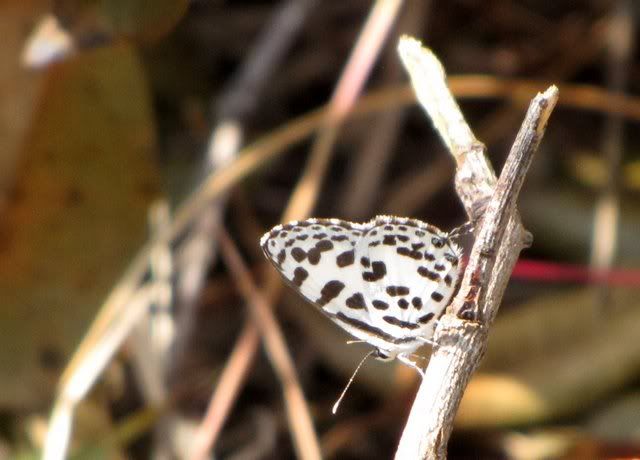 the closed YELLOW ORANGE-TIP:
the COMMON LIME: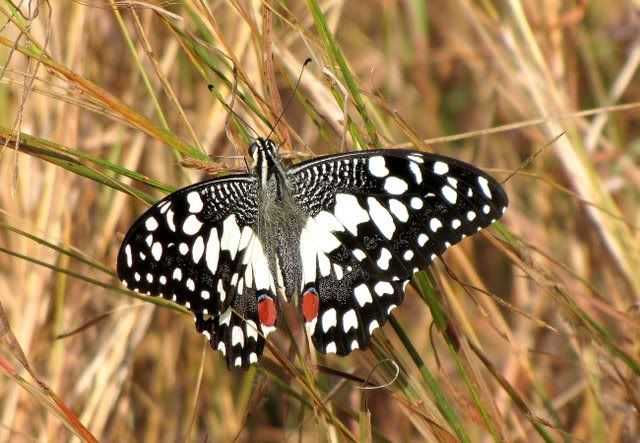 I thought of Uma as I photographed the ZEBRA BLUE both closed,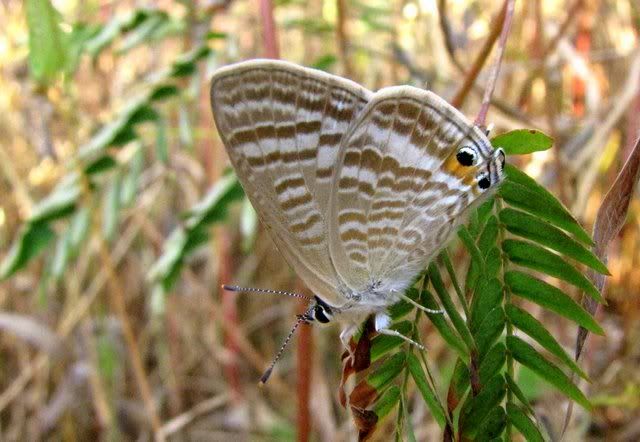 and open!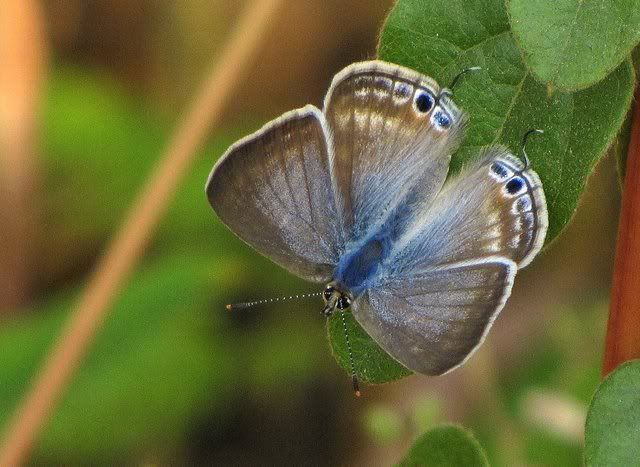 I finally found these two un id MOTHS in the School toilet, before we finally went towards a very welcome breakfast: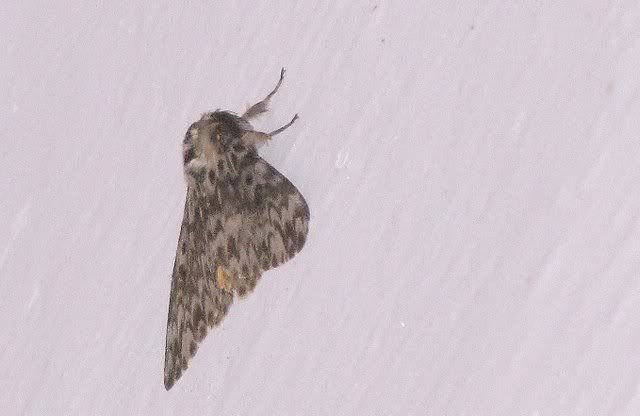 I loved these CASSIA flowers, harbingers of Spring:
The lists: Babbler, Jungle Barbet, Coppersmith Barbet, Small Green Bee-eater, Small Green Bulbul, Red-vented Bulbul, Red-Whiskered Bulbul, White-browed Bushchat, Pied Buzzard, Oriental Honey Cormorant, Little Coucal, Greater Dove, Laughing Dove, Spotted Drongo, Ashy Drongo, Black Egret, Cattle Egret, Little Flowerpecker, Tickell's Flycatcher, Asian Paradise, white male and female Flycatcher, Tickell's Blue Flycatcher, White-browed Fantail Hawk-Cuckoo, Common Heron, Pond Iora, Common Kingfisher, White-breasted Kite, Black Kite, Brahminy (Juvenile) Koel, Asian Munia, Black-headed Mynah, Common Mynah, Jungle Oriole, Eurasian Golden Parakeet, Rose-ringed Prinia, Ashy Prinia, Plain Robin, Indian Robin, Oriental Magpie Shikra Shrike, Brown Shrike, Long-tailed Silverbill, Indian Sparrow, House Sunbird, Purple-rumped Sunbird, Purple Swallow, Barn Swallow, Red-rumped Tailorbird, Common Wagtail, Grey Wagtail, Pied Warbler, Blyth's Reed Warbler, Greenish Leaf Woodpecker, Greater Flameback Blue,Grass Blue. Zebra Bush Brown, Common Cerulean, Common Coster, Tawny Four-ring, Common Jezebel, Common Leopard, Common Lime, Common Orange Tip Orange Tip, Yellow Pierrot, Common Psyche Sailor, Common Rose,Common Rose, Crimson Tiger, Common Yellow, Grass (several types) Several types of Crickets, Grasshoppers, Moths, Spiders Agama, Peninsular Rock Calotes Lizard, Garden Squirrel, Three-striped Palm I hope the others add what I might have left out!
We even saw an owl…this lovely one, which formed part of the decorations of a Mela that was taking place in the School!
I've put up more pics on my
And have just started uploading on my
So…I hope all of you enjoy our Valley School visit as much as we did!