K.Gudi, BR Hills, 27,28 and 291210
January 1, 2011
It was lovely to be able to introduce our family to the forests of Karnataka, even though the driving had them scared stiff at times…people from the US can't cope with unruly traffic…they are too used to ruly conditions :)
What better way to start on the trip than with the sunrise in the fields on our way out….?
We crossed over the Arkavathi Bridge, too:
We took a brief detour to see Sivansamudram Falls, where the flow was much less than when I visited in November:
We reached the JLR resort at K.Gudi to find a festive green star on top of the Gol Ghar: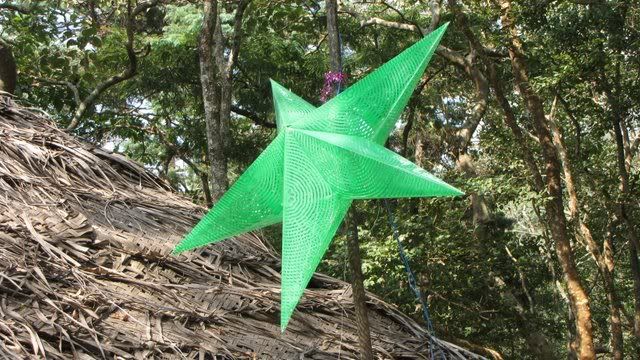 We went to settle down in the tents, but I was also tickled by the "Lo ghut"!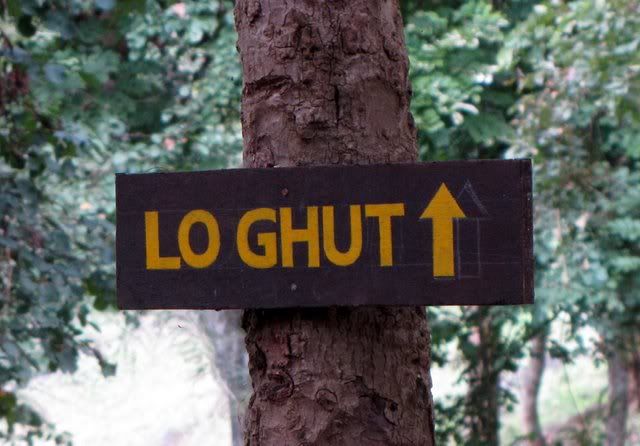 Some of the WILD BOAR around the campus are quite used to humans, and I caught a particularly human lazy-bones look on the face of this one. He seems to have come straight out of the Asterix comics!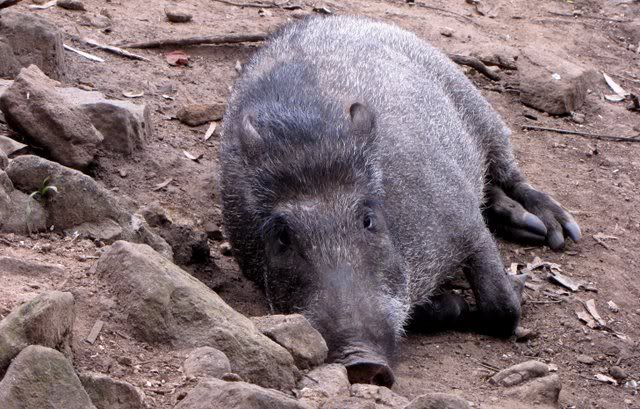 On our safaris, we saw a lot of BARKING DEER: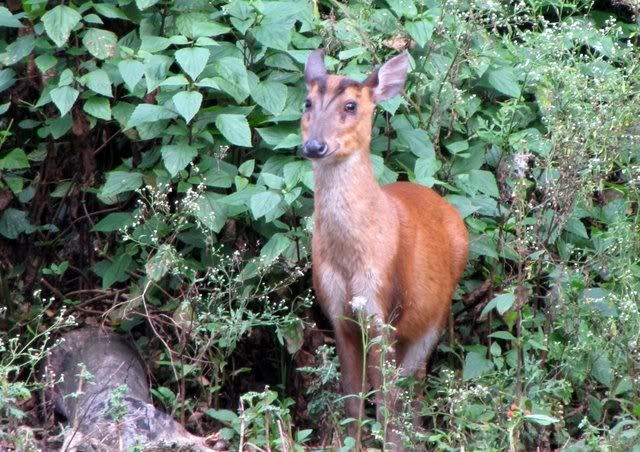 several GAUR or wild bison:
Here's the radio in the jeep, through which the drivers communicate with each other about interesting sightings: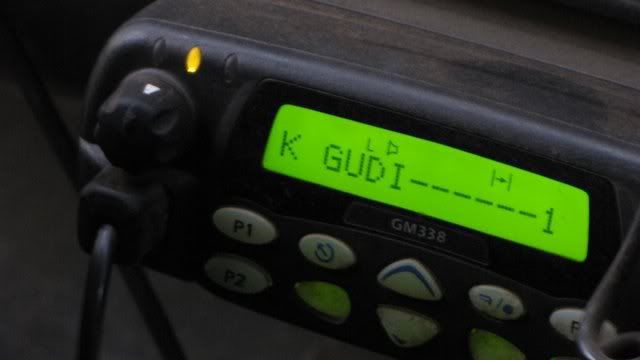 Near the campus was a beautiful SAUSAGE TREE (Kigelia pinnata) ...you can see how it got its name!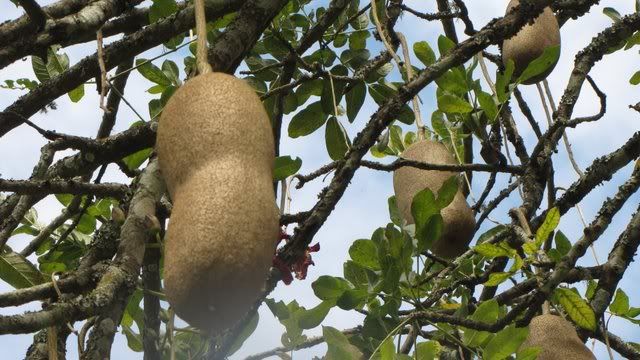 Here are the beautiful flowers of the tree:
There were a pair of majestic BRAHMINY KITES at the water body near the campus:
On one safari we saw this RED SPURFOWL: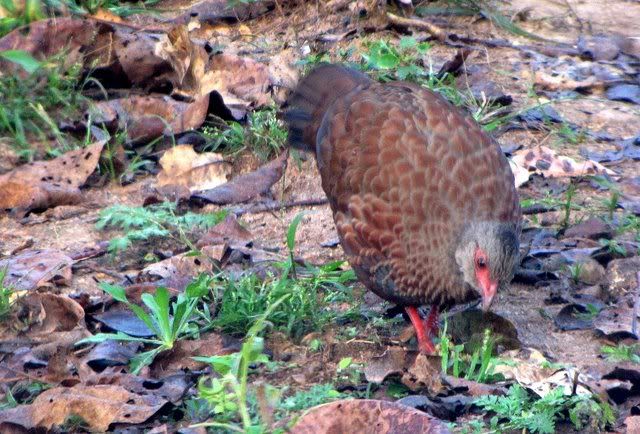 The next day, we also visited the Biligiri Rangana Temple: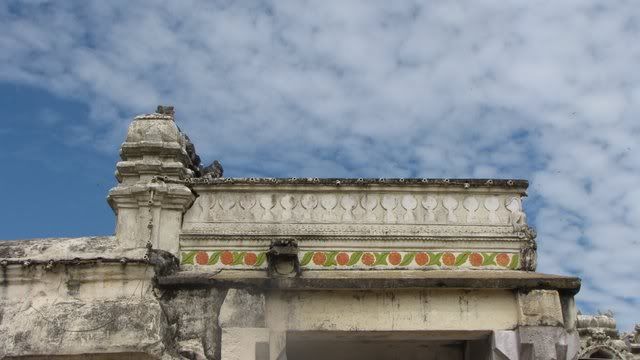 Here are some of us: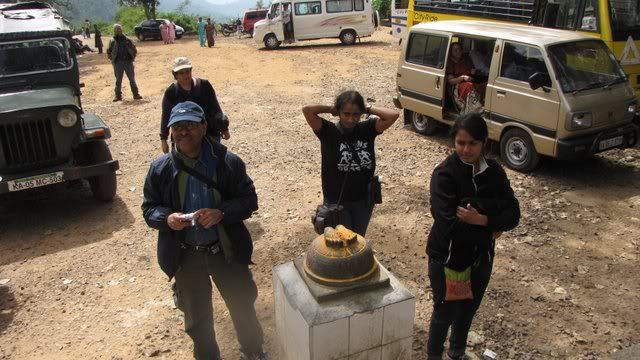 My niece and nephew were thrilled by the antics of the BONNET MACAQUES (of the huge group that were Kalyan's great friends at the JLR resort, only four are present now!)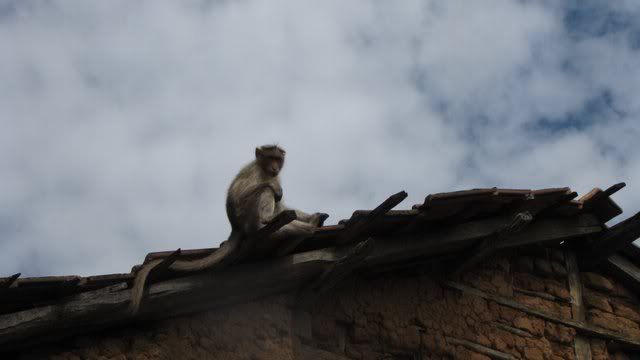 Here's a mother with a tiny baby: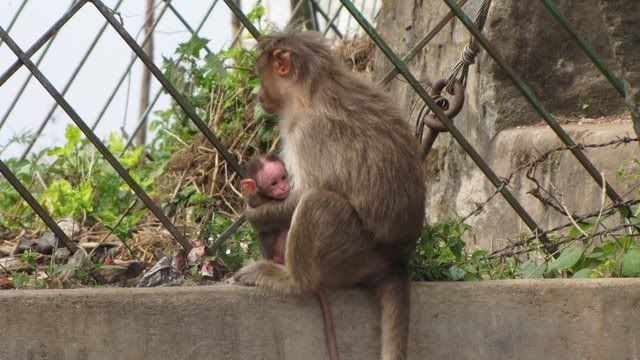 We enjoyed the spectacle of one of them doing acrobatics in order to eat the fruit of the JACKFRUIT tree:
Moving a little up the evolutionary ladder, I photographed this devotee with the 'nAmam'on his forehead: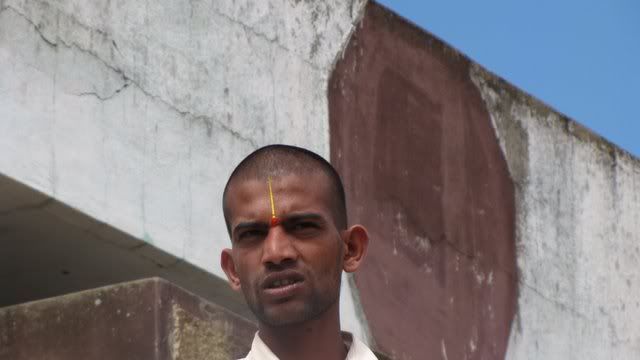 We saw several CHITAL (Spotted Deer) during the safaris, including this magnificently-antlered stag: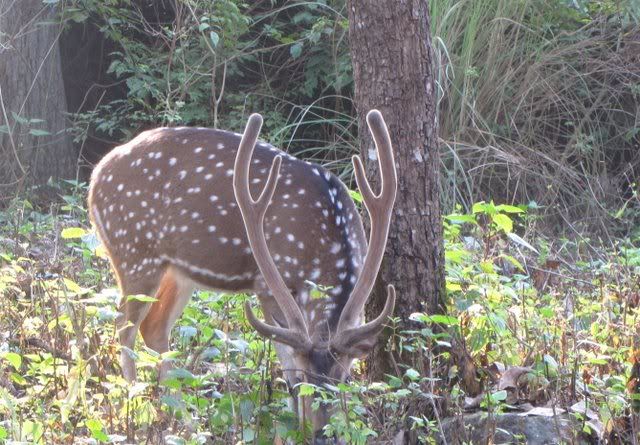 After the temple, we also went to visit Gorukana and I was very happy to meet Jadeswamy and Ganesh. Here's Ganesh: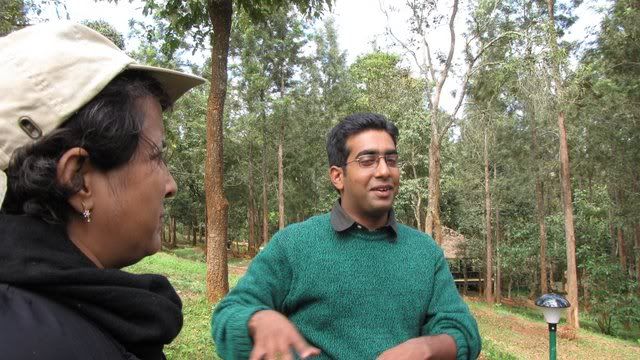 And I was really thrilled when Ganesh told me that Dr. Sudarshan was actually there, and introduced me to him! I instantly asked Ganesh (who is an excellent photographer) to snap me with him!
Ganesh showed us around the campus, and I caught these mating COTTON STAINER BUGS:
Ganesh also talked about the tiger that had been active around the area, and showed us this pugmark: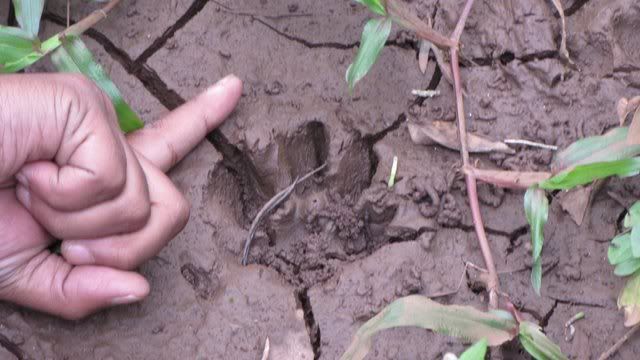 Back at the JLR campus, I wandered around, and got this beautiful LESSER YELLOWNAPE (thanks, Ramit) pecking with its beak, and red tongue, at the wood:
In the faint light, I also managed to get a BLACK-HOODED ORIOLE: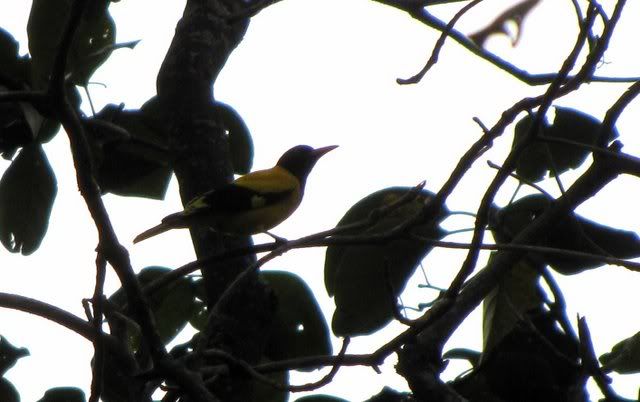 We saw several ELEPHANTS on the safaris, and were able to observe their behaviour for a while: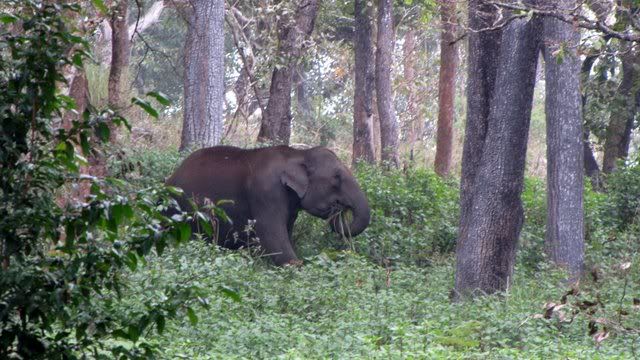 On one safari, we sighted the BLACK-FACED LANGUR leaping across the tree-tops:
And in a pond, between VGKK and K. Gudi, we sighted these POND TERRAPINS:
Of course, I can't resist also including this LION at the Mysore Palace! a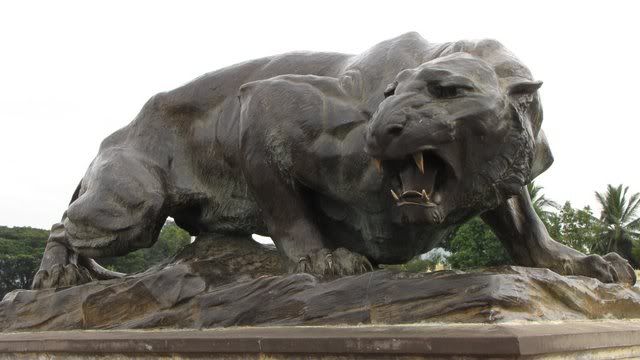 Some of the deer at the campus, too, are used to humans:
Here is the list of creatures (I haven't included the butterfly list as I didn't spot many) Babbler, Jungle Barbet, Coppersmith Barbet, White-cheeked Cornmorant, Greater Cormorant, Little Crow, House Crow, Jungle Darter, Oriental Dove, Spotted Dove, Laughing Drongo, Ashy Drongo, Black Drongo, Racket-tailed Drongo, White-bellied Eagle, Crested Serpent Egret, Cattle Egret, Little Flycatcher, Asian Paradise Flycatcher, Tickell's Blue Heron, Grey Heron, Pond Ibis, Black Ibis, Black-headed Iora,Common Kingfisher, White-breasted Kite, Black Kite, Brahminy Laughingthrush, Malabar Leafbird, Golden-fronted Martin, House Minivet, Scarlet Minivet,Small Mynah. Common Mynah, Jungle Mynah, Hill Nuthatch, Chestnut-bellied Oriole, Black-hooded Oriole, Golden Parakeet, Plum-headed Parakeet, Rose-ringed Prinia, Ashy Prinia, Jungle Spurfowl, Red Sunbird, Purple-rumped Sunbird, Purple Swallow, Barn Swallow, Red-rumped Swift, Common Treepie, Rufous Wagttail, Grey Warbler, Greenish Leaf Woopdpecker, Greater Flameback Woodpecker, Streak-throated Yellow-nape, Lesser Mammals Boar, Wild Cat, Civet Deer, Barking Deer, Spotted Elephant Gaur Langur, Black-faced Sambar Squirrel, Malabar Giant Amphibians Terrapin, Pond Assorted Frogs and Toads
Let me close with these sunset pics, which give the appearance of the forest on fire!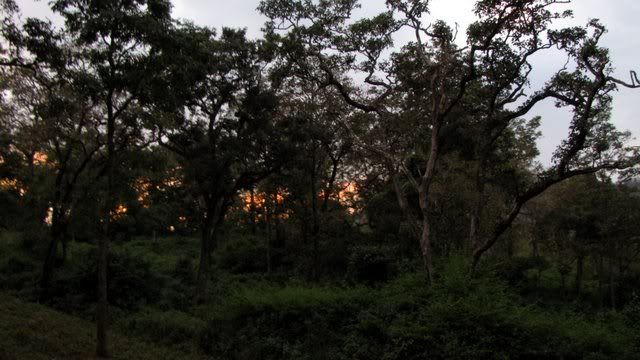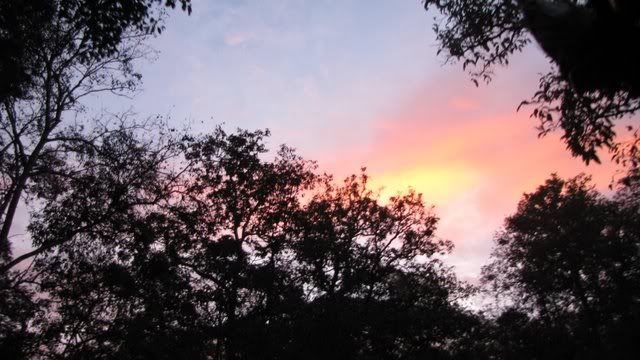 All in all, it was a very satisfying trip, though our family was rather disappointed at not sighting tigers or leopards. Since all the trails except one have been shut down by the Forest Department, I did not see this as likely to happen..and it didn't. However, I told them that our post-dusk sighting of a Civet Cat was a rarer one than a sighting of a tiger!
I do hope that they open up the trails before I visit BR Hills again….