Ragihalli/Shivanahalli,..the birds, 271110
November 30, 2010
When Hrishikesh, Prajakta, Tharangini and I went on the road to Ragihalli and Shivanahalli, we started out with dark, overcast skies, and a complete lack of birding activity..to the point where we started wondering if we should just turn tail and go back home! But our first stop, near a temple, was rather productive; surprisingly, we found a lot of yellow birds together: White-eyes, Ioras, and the
EURASIAN GOLDEN ORIOLES
Almost immediately, on one of the small teak trees, I, er, spotted this SPOTTED OWLET peeping out: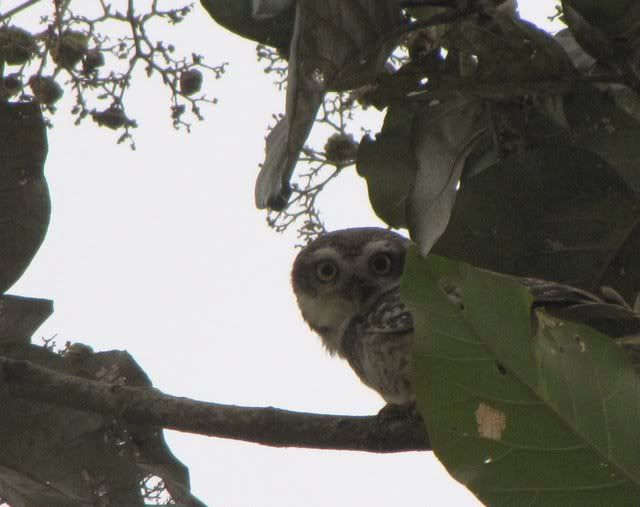 A crow promptly chased it into the peepal tree under which the small shrine was, and from there, it looked at us alertly:
Right opposite the shrine, we had the usual "in-the-leaves" view of these two GREATER COUCALS skulking and hiding themselves as much as possible!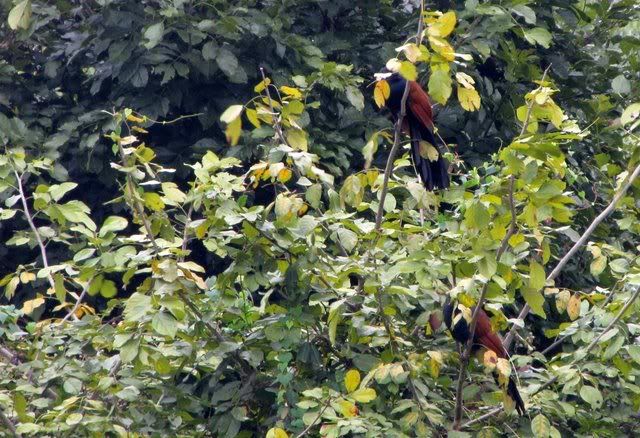 Throughout the outing, we saw only this lone EURASIAN COLLARED DOVE: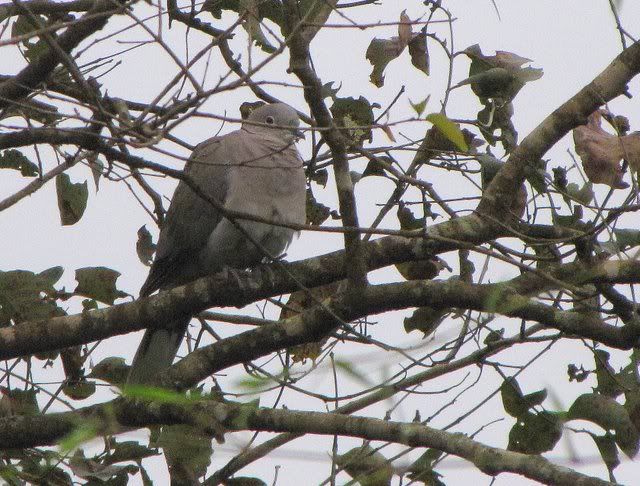 We then went to the Ragihalli sheet rock, and there was a lone JERDON'S BUSHLARK very surprisingly, the bird sat perfectly still, and flew off only after several minutes: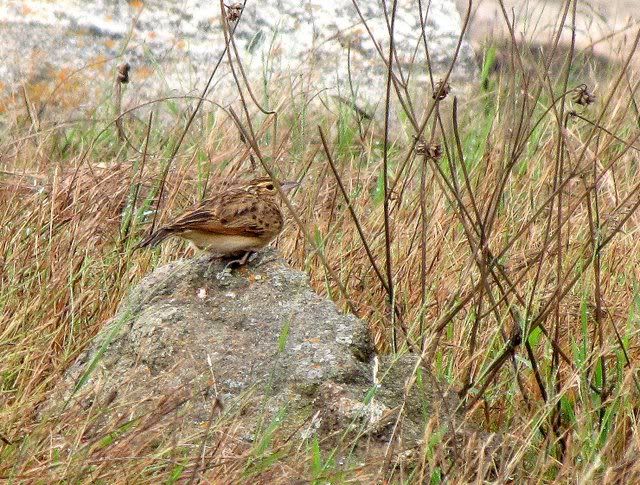 The sheet-rock area then lived up to its usual reputation, with this EGYPTIAN VULTURE soaring past overhead:
At several places, we had good sightings of the SHIKRA:
This PADDYFIELD PIPIT let us watch it for a while: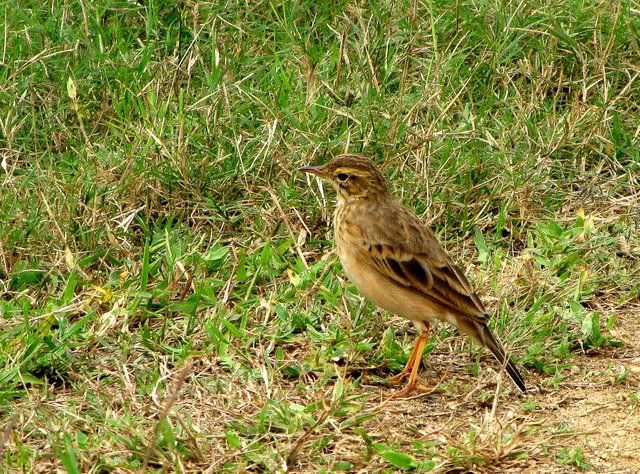 Here it is, eating its breakfast: The lack of lighting ensured that all I got of the various raptors were silhouette shots. Here are a couple of raptors; Karthik says this might be one of the SPOTTED EAGLES:
this is probably the SHORT-TOED SNAKE EAGLE : Update, Dipu feels this is probably a BOOTED EAGLE:
The silhouette of the ORIENTAL HONEY BUZZARD of course, is better known to me: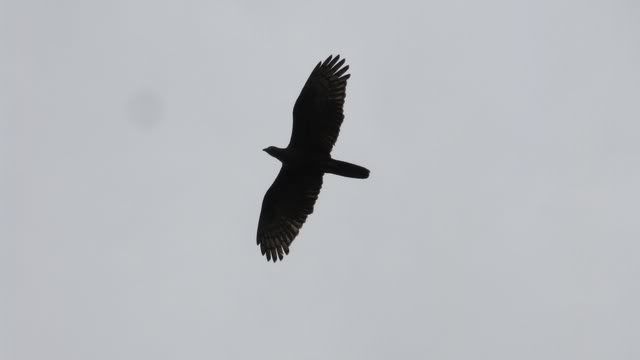 Bird list: Babber, Yellow-eyed Babbler, Jungle Babbler, Tawny-bellied Barbet, White-cheeked Bee-eater, Small Green Bulbul, Red-vented Bulbul, Red-whiskered Bulbul, White-browed Bushchat, PIed Bushlark, Jerdon's Buzzard, Oriental Honey Coucal, Greater Crow, House Crow, Jungle Dove, Eurasian Collared Dove, Laughing Dove, Spotted Drongo, Black Drongo, White-bellied Eagle, Booted Eagle, Spotted Egret, Cattle Egret, Little Flowerpecker, Pale-billed Flycatcher, Asian Paradise Flycatcher, Tickell's Blue Flycatcher, White-browed Fantail Heron, Pond Hoopoe Iora, Common Kingfisher, White-breasted Kite, Black Kite, Brahminy Koel, Asian Lapwing, Red-wattled Lark, Rufous-tailed Malkoha, Blue-faced Minivet, Small Mynah, Common Oriole, Eurasian Golden Owlet, Spotted Parakeet, Rose-ringed Pigeon, Blue Rock Pipit, Paddyfield Prina, Plain Prinia, Ashy Robin,Indian Roller, Indian Shikra Silverbill, Indian Sparrow, House Starling, Rosy Sunbird, Purple Sunbird, Purple-rumped Swallow, Barn Treepie, Rufous Vulture, Egyptian Wagtail, Pied White-eye, Oriental So we ended our outing pretty satisfied with all that we'd seen, and the excellent breakfast provided by my "lady hotelier" at Ragihalli, and a light lunch at Bannerghatta Circle!