KANS Outing with Children of Titan/Sishya Schools, Hosur, 281110
November 29, 2010
Kenneth Anderson Nature Society (KANS)
has been an organization I've belonged to for a while, and they are doing a lot of good work in the areas around Hosur. On Sunday, they'd organized an introduction for about 50 students from two Hosur schools…the Titan School, and Sishya….and then a field trip in the scrub jungle beyond Hosur.
I had thought that my fellow volunteers were going to Hosur and staying over on Saturday, so I'd decided not to go…but when Guru called to say they were leaving early on Sunday morning, I couldn't resist joining in!
All of us piled into Khusro's roomy vehicle at the Silk Board, and left on Sunday morning, stopping for breakfast at " Ramakrishna Lunch Home"...it might have been a lunch home, but the breakfast was excellent, too!
(Even here, I managed to have one NTP friend...Kiran took the NTP in November!) The children were all ready for us when we entered the Titan School, and Guru made his presentation on the common birds to them: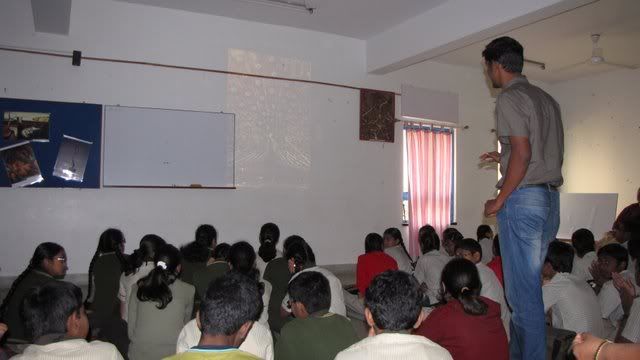 Once the presentation was over, the children piled into the buses, and so did we. The children lined up to be divided into four groups, as we prepared for the walk:
Alas, there was almost no bird activity in the scrub jungle, but we still enjoyed our trail a lot! We saw a well that was made, not with bricks and mortar, but marked by a pileup of stones:
The children were well-prepared with pads and pencils or pens, and diligently noted down anything of interest that we pointed out to them:
At one point, several of us needed a little help to cross a little stream that flowed over the rocks:
Here's just a sample of some of the things we saw: a COMMON JEZEBEL:
a CARPENTER BEE with its beautiful wings:
and of the very few birds that we managed to see, a PIED BUSHCHAT on the cactus and lantana:
At the end of the outing, before we went back to the school , the "Guru" addressed the "sishyas"!
Guru is really excellent with the children and holds their interest with ease. Here's a short video of some of the group, atop the hillock: Alas, Kiran and I had to get back, but apparently the interaction with the children was very intersting afterwards, and later, the KANS volunteers went to visit the Aiyur forest, and had a great time, which included the sighting of a Brown Fish Owl!
For more photos of the outing, click
I only wish I'd been able to go to Aiyur; hopefully, some other time…