Dandeli...the beings (except the Hornbills)
November 23, 2010
Dandeli is a great place for birds; small wonder then, that even after missing all the thrushes that are common there, like the Orange-headed Thrush, the Blue-capped Rock Thrush and so on, we still wound up with a bird count of well over a hundred!
Dandeli's speciality is the Hornbills, and I'll devote a separate post to the Malabar Pied Hornbills that we saw; but apart from that…..
We started at Attiveri, where, in the morning light, we got the
BLACK-HEADED IBIS:
There was an ORIENTAL DARTER that flew in, and landed amongst the CORMORANTS and was drying its wings:
Several STORKS flew across the waters:
this SMALL BLUE KINGFISHER sat hunched up on the bund, waiting for fish:
Deep in the valley, we spotted a SHIKRA: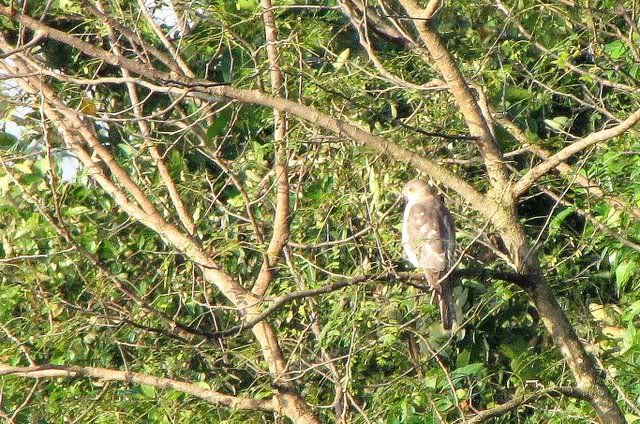 We were excited about what this bird was, but when I went home, alas, it was not a lifer, but the COMMON HAWK CUCKOO:
another familiar friend was the SCALY-BREASTED MUNIA:
then, of course, we spotted a lovely raptor, the GREY-HEADED FISHING EAGLE:
Our guide, Mahesh, went too close, and the bird flew rather far away, where two WOOLLY-NECKED STORKS were:
a PURPLE HERON skimmed over the water with grace:
I couldn't id this bird, Garima says it's the BAR-WINGED FLYCATCHER-SHRIKE and AMS feels it might be a Rock Thrush: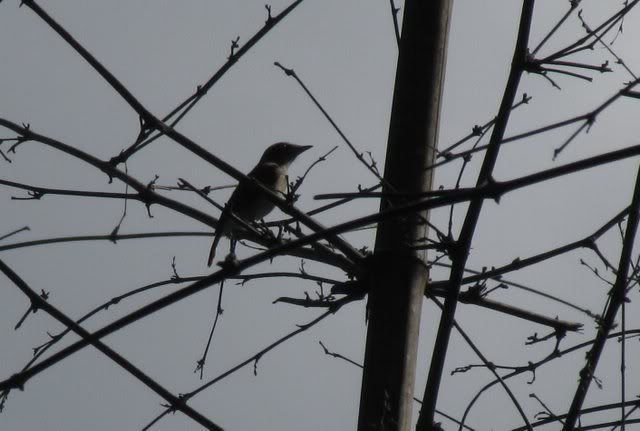 Krishna spotted a PADDYFIELD PIPIT:
The next morning's birding was full of mist and I got only silhouette shots, such as this one of a SPOTTED DOVE and PLUM-HEADED PARAKEETS: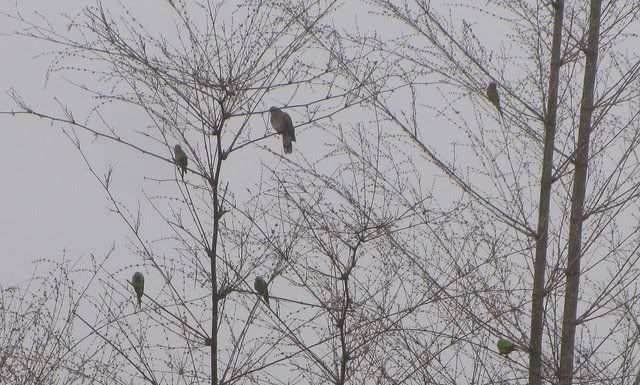 Later, on the Kali river bridge, we saw several SCARLET MINIVETS: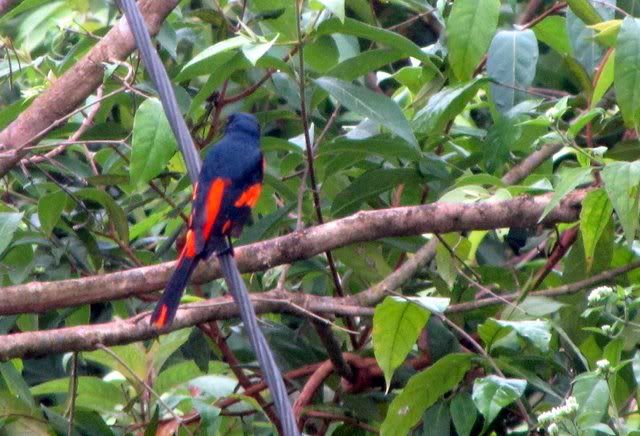 but an amazing and unexpected bonanza awaited us in the last hour of birding, right outside the Kulgi Camp gates; we saw an incredible number of birds, including this BROWN-CAPPED PYGMY WOODPECKER: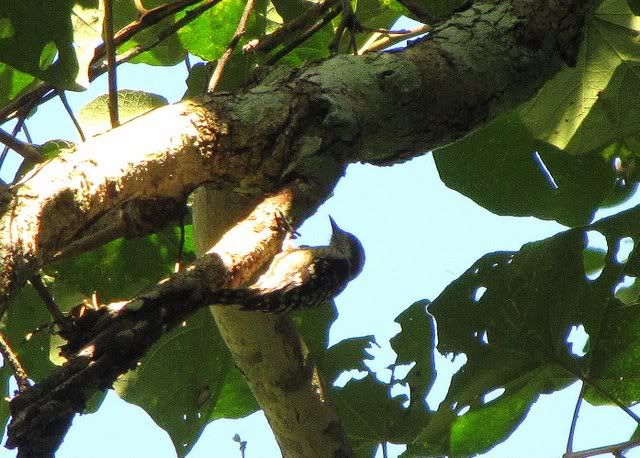 as we headed back home, we stopped near a water body where we saw several SMALL MINIVETS:
in the bamboo thickets, against the evening sky, we saw the silhouettes of the GREATER RACKET-TAILED DRONGO:
It was lovely to see (though they were against the light) the VERNAL HANGING PARROTS quite literally hanging about!
I couldn't get any closer to the HILL MYNAHS:
Other creatures included the FUNNEL-WEB SPIDER:
the GOLDEN DARTLET: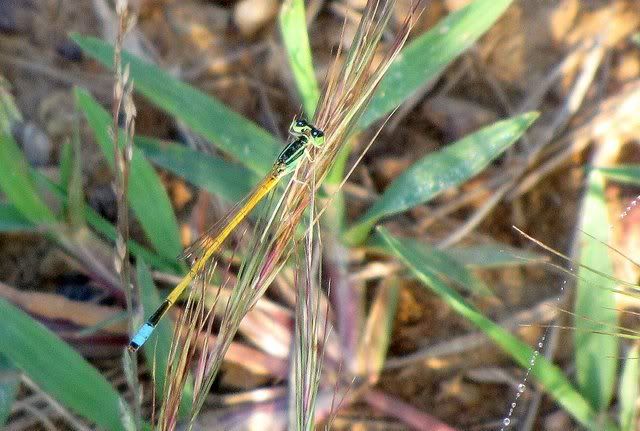 the butterflies were also interesting; here's a DANAID EGGFLY:
a COMMON NAWAB which was a lifer for me:
A NIGGER:
We all enjoyed snapping this posing BLUE TIGER: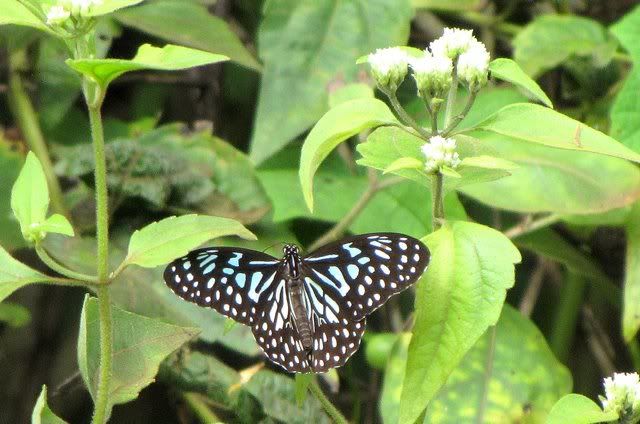 Another beautiful lifer for me was the GLAD-EYE BUSH BROWN ...a name that made a lot of sense! :)
Everywhere, green GRASSHOPPERS hopped:
The only two mammals we got to photograph were the BLACK-FACED LANGUR:
Here it is, feeding: And since I got a good shot of the MALABAR GIANT SQUIRREL at BR Hills, this time I'm posting a shot of it as it flicked itself off:
Krishna also spotted this lovely fan-shaped MUSHROOM: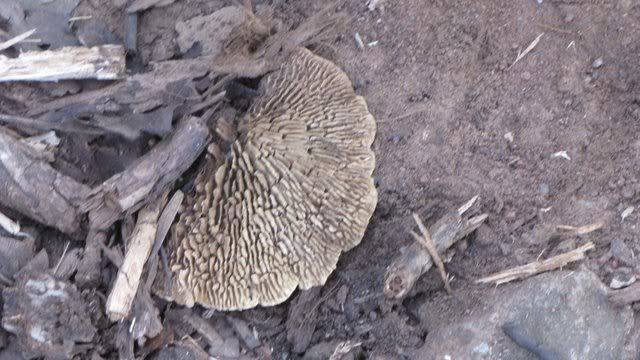 this STRANGLER FIG has already started growing around the tree, and will, in the course of time, strangle it:
Even a TEAK LEAF from the plantations, looked beautiful as it lay fallen on the path: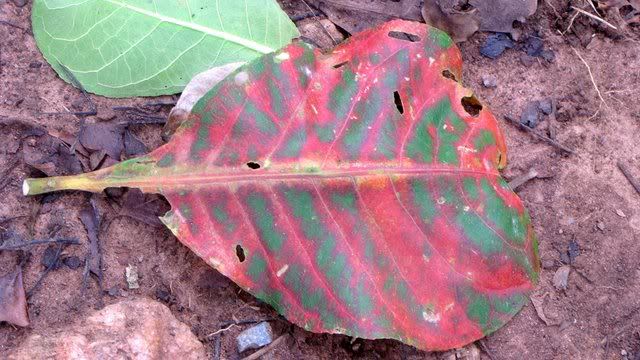 I enjoyed seeing many types of spider webs; this one is the web of a TENT SPIDER:
Some beautiful, un id'd WILDFLOWERS delighted us:
I do know that this is a species of IPOMEAIA:
And here are all of us, making the bird list!
I got this regular
SPIDER-WEB,
glistening with the morning dew:
When one sees so much, how can one be disappointed?