A wonderful ending to the trip...
November 22, 2010
While birding at Dandeli, I realized that that the moon was nearly full:
"chaundveen kA chAnd" is much praised in Urdu poetry, even more so than the full moon, as beauty with even further promise. Here's a very beautiful song (it's supposed to be Hindi, but I think it's Urdu!), in which Guru Dutt praised the really stunning beauty of Waheeda: Here's another video which I don't like as much (and which I think is a BAD translation!) but it saves me having to translate the words! Well, anyway, that's the moon of the 14th night. The next night, we drove down from Dandeli to Hubli to board the train that would bring us back home. As we crossed the Kali river, I was entranced by the reflection of the full moon in the river waters.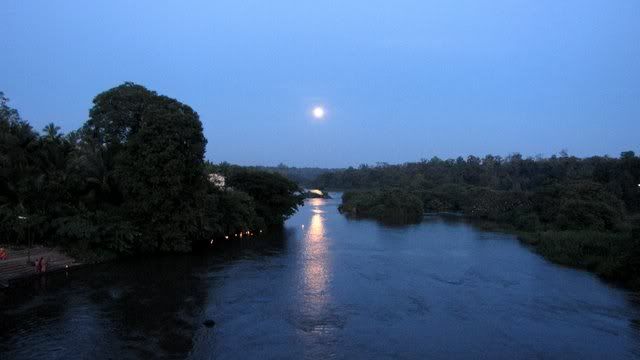 We stopped...and I got an even further bonus.
It was Karthik Poornima (or Pournima) and devotees were floating little lighted lamps in the river. It was a wonderful sight.....
Here are KM and Shailaja, taking in the sight: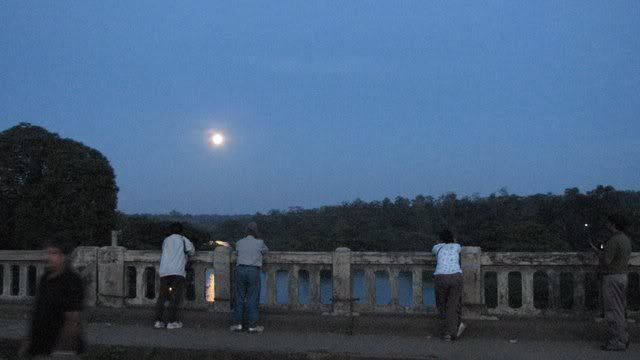 What a lovely sight, to see the gently floating lights on a river that's already lit by Nature…
Such things, I think, happen by serendipity. Our trip had been twice postponed, else we would not be there on a full-moon night; and it was wonderful that we were crossing the river just as these lamps were floated out… so much beauty happens in my life…and by sheer chance.