Basic Halli, 30 and 311010
November 4, 2010
In alphabetical order, Ashwini, Kiran, KM, Vineet, Vittal and I went to Basic Halli to participate in the Bird Survey that Anand had organized. As we were gathering to get into the car, I looked up and had my first migrant sighting for the day, the
SPOT-BILLED PELICANS:
Here's a view of the basic tents and the basic pool:
Meals are simple, and I liked the traditional dishes a lot. Here's boiled corn-on-the-cob, which was our lunch starter on Sunday:
Here's the array of food: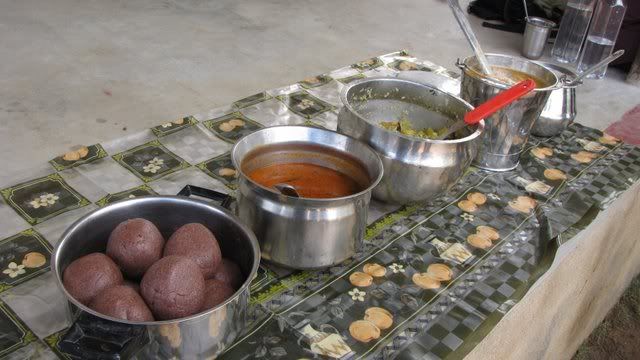 I delayed Harsha's lunch while I snapped his plate...that's the "rAgi muddE" ball on his plate, along with the colourful assortment of vegetables in the sAmbAr, and sweet potato "pAlyA":
We got about 75 species of birds (a lot of the birding had been done by the stalwarts before we reached there on Saturday evening, making our job very easy!)...some were common residents, like this SCALY-BREASTED MUNIA:
Some less so, like this WHITE-BELLIED DRONGO:
and, of course, some uncommon sightings, like this TAWNY EAGLE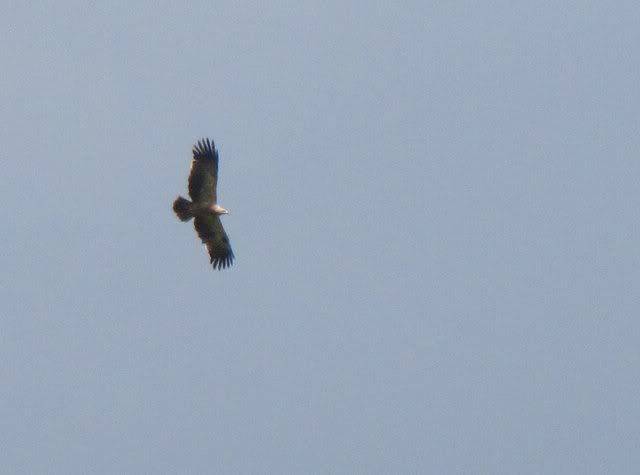 and what was later identified as a GREATER SPOTTED EAGLE (a lifer for me):
(Sorry about those shots, the SX10 is not the camera for raptors soaring high overhead!) Tiny creatures included this ZEBRA BLUE:
a metallically lovely FLY:
I enjoy documenting ALL mammals, so here Homo sapiens krishnae:
Rare sight to get him clicking a camera! Here are some of us, as the call of the White-breasted Idli, the Speckled Chutney, and the Green Banana-leafbird took precedence over birding:
And here we all are, as I mandated a group photo before we dispersed: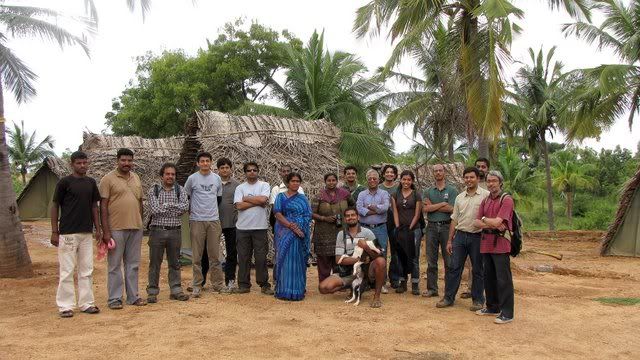 L to R: Ananda, Lobo, Swamy, Kiran, Karthik, Ulhas, Mani, Neelamma, Ashwini, Ramesh, Anand (with Bullet-the-Dog),Mohan, Raghu, Dipti,Vittal,Sandeep, Harsha, and Krishna.
For more photos,