Kayaloram Resort, Alappuzha, Kerala
August 21, 2010
I do love staying in resorts which have maintained the traditional idiom in architecture. I enjoyed staying at the
Sterling Heritage Resort in Swamimalai, Tamizh Nadu, a few years ago…the swimming pool in the resort is what would have been the theppa kuLam, or temple tank, in the village agrahAram!
So staying at the
Kayaloram resort was also very satisfying.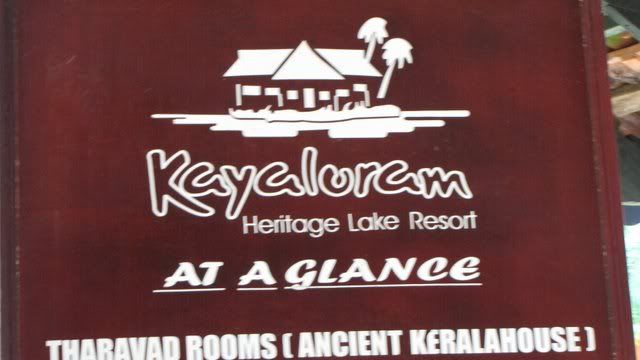 And here is the
on the door:
It's luxurious inside, too:
Another traditional feature is that while, the, er, amenities are under a roof, the bathing area is open to the sky:
I suppose, in the heavy monsoon season, one just goes and stands there and there's no need to use the shower provided!
Here's the restaurant:
And here are the chef and the maitre=d', Jaimon and Shyma:
This is Raji, who was our masseuse at the Ayurveda cottage, and gave us head and shoulder massages:
That was a lovely place to spend a couple of days, I must say, with the backwaters lapping at the edge of our cottage…